A coalition of Benue youths, reportedly, comprising over forty groups, on Wednesday, July 25, 2018, waylaid Governor Samuel Ortom at the entrance of the Benue Government House stopping him from traveling to Abuja to attending a scheduled meeting with the All Progressives Congress, APC, National leadership.
The thousands of youths who blocked the entrance of the seat of power sang native war songs, while many bore placards with inscriptions like "Ortom don't go back to APC," "We don't have land to donate for ranching," "APC is Miyetti party," Our farms are not for cows," You must leave APC," Ortom is our party" and "2019: On Ortom we stand."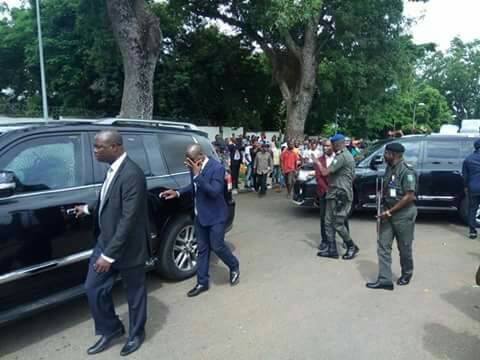 Comrade Terrence Kuanum, the Spokesmen of youths, and Pastor Dave Ogbole advised the Governor not to make the trip for further discussions with the APC leadership on his membership of the party but to rather look for an alternative platform.
"We are openly telling you this because if you fail to heed our advise and attend the meeting we will ensure that you are voted out in 2019. "We the Benue youth are not prepared to stay with you in APC, we are not prepared to remain in a party where its leaders would prefer to look the other way while armed herdsmen killed our children, pregnant women, the aged and our defenseless people, that is why we are saying no to APC, a party that allowed bloodbath in Benue.
"The saying goes that the voice of the people is the voice of God, Governor Ortom we the Benue youths say we do not want APC in Benue, and you must leave the party now."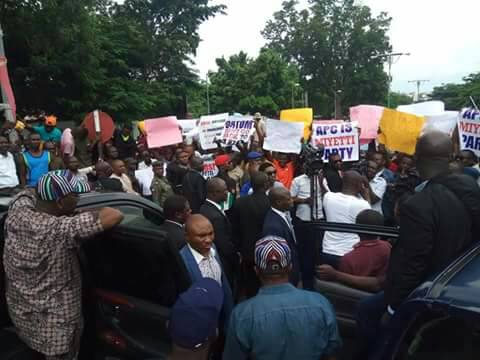 To underscore their anger the youths ordered that the APC flag on the Governor's official car should be removed immediately and the Governor's driver complied.
Governor Ortom who was already on his way to Abuja for the meeting with the APC leaders pleaded with the youths to allow him attend the meeting assuring that their interest would be protected.
The youths, however, refused, insisting that the Governor must return back to his residence or be prepared to kill all youths who took over the roads leading out of the Government House. He eventually turned back with his entourage.