There is good news for women who think age is a barrier to conception.
A woman said to be 60 has just been delivered of a baby at a Lagos hospital.
For 31 years, Mrs Omolara Irurhe was globetrotting not for pleasure but in search of a child.   She was a guest in the best hospitals.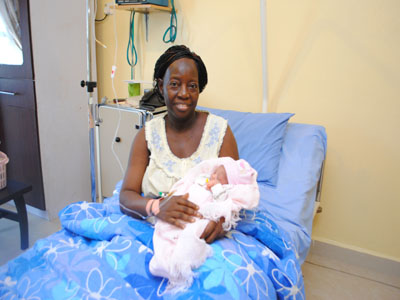 But in 2010, her journey ended in the most unlikely hospital and country when she began an Invitro Fertilization (IVF) treatment at the St. Ives Hospital in Lagos. On Monday, what began as a seed hope four years ago culminated in the delievery of a bouncing baby girl.
Mrs. Irurhe  becomes the oldest IVF mother in Africa. The global recognition for oldest IVF delivery goes to Rajo Deri Lohan, an Indian who in 2008 was delivered of a baby at 69 years.
The IVF Unit at St. Ives Hospital successfully aided the conception and delivery of the baby and has now equaled the United Kingdom's record of IVF age delivery.
The team of doctors at the hospital was led by the Chief Medical Director, Dr. Tunde Okewale, who expressed joy at the successful delivery. Okewale said the physical condition of the mother – and not just the age – is a major factor that determines the success of conception and delivery through IVF.
"We treat only after strict medical check of couples. For us, age is not important in our decision to take her on; what was important is the physical condition of the mother. Older women generally make better patients in our experience," Okewale said.
When The Nation spoke to the new mother, she was full of enthusiasm and joy over her new baby. She said what kept her going after many years of childlessness was faith in God and a belief in herself.
Mrs. Irurhe said she had tried to have a baby for many years and had gone to many hospitals both within and outside the country for a solution to her childlessness. But in 2010, her journey came to an end when she was introduced to St. Ives Hospital and the treatment began.
"I believe we should not limit God and what the doctors can do in this modern age. I believe this is the appointed time. I was very hopeful throughout the years I was childless and I remained focused on God. We went to many hospitals but we didn't give up," she said.
The joyful mother said her husband's Catholic faith prevented him from marrying a second wife as the two of them put their faith in God.
"We didn't have much pressure, even though our marriage is cross cultural –I am Yoruba; my husband is Edo- but we remained hopeful," she said.
Desmond Adekunle Irurhe was elated at the birth of his baby. When asked if she supported his wife going for the IVF he replied: " I supported her throughout because my wife was dogged and she believed in herself. When I saw her faith, I had no choice but to go with her. She kept telling me she would have her child".
The husband said even though there was some pressures, it wasn't too much. "I wasn't thinking of another wife. I came from a monogamous family and I decided she is all I will have. The family was understanding too and we fought together to get this baby."
Irurhe praised the medical team at the hospital, saying they made everything easy for them. " The hospital didn't give us any problem, they were very helpful and we thank them for the successful delivery."
With the successful delivery, hope rises for older women who may want to go the way of IVF in child conception. In Nigeria, the cost of the IVF treatment varies but from available statistics, the most expensive treatment is under N2million. The Iruhres paid less than N1 million for their successful treatment.
"I will advise couples who are trying to get a baby to try the IVF. My case has rekindled hope for the barren woman. I will say the couple should relax and take it as it comes, they will surely smile," the mother said.
Having a first child at the age of 60 years may not be the norm but for the mother, it is an experience she does not mind going through again. " I don't know if I will have another baby, but if the doctors say I can, I will try it," she said, smiling.
Mrs. Omolara Irurhe says, "We have tried for many years to have a baby and after we failed to get a baby naturally we opted for the IVF. We had gone to many hospitals before here but the treatments that we received didn't work. We came in contact with this hospital in 2010 before we delivered this baby."
"I give glory to God, we kept our faith in God, we believe this is God's appointed time.