[dropcap]A[/dropcap] day at the beach is not a cup of tea once you become a parent.
It's no more about just packing sunscreens and towels.
It's true, every outing becomes a matter of planning when you become a responsible parent but the joy to spend quality time with kids outweighs all of that.
Tips to Remember
A beach day doesn't have to be stressful. We have gathered and noted down some great tips from experienced parents and experts who have been through the same phase as you.
So let's dive into the seventeen tips we have got for you to make sure you're ready for your next beach day.
1.Portable Shelters and Tent
If you think that big old beach umbrella of yours is still going to work, then you're wrong.
If you have a little one who could fall asleep or take a short nap, then you need a baby beach tent.
Investing in a beach tent has been the best decision for many parents, and we don't see a reason why you shouldn't.
2. You Need to Get a Carrier
Does countless trips from your car to the beach sound familiar?
We know how much of a chore it is to carry all the necessities along with you to the beach. Get a rolling cart to make it more convenient.
3. Don't Forget to Bring a Washable Lovey
Little kids tend to fall asleep anytime they want. Theymay get exhausted right after building their sandcastle.
But instead of feeling comfortable, they could get fussy. To avoid that, bring their favorite stuffed toys and blankets.Make sure they are washable.
4. Put Shopping Bags to Use
If you have collected those plastic shopping bags, put them to use when you're at the beach to avoid uncomfortable situations.
Throw waste and diapers in the plastic bag and carry it with you to dispose of everything.
5. Is the Beach Blanket Perfect For You?
Carrying a sack of heavy blanket is not ideal. There is other stuff to add to your burden. So get a beach blanket that's sturdy, but manageable.
6. Get to The Beach Early
Set out early to enjoy better sunlight, a perfect spot and a less crowded beach. Most parents comply with this tip as it helps them to wrap up before the sun hits its peak.
7. Aim for the Lifeguard Station
Parents with little ones need to keep in mind that kids could get lost anytime and so settle down around the lifeguard station. The kids can easily remember the spot too.
8. Apply a lot of Sunscreen
Protecting yourself and the baby from harmful sun rays is essential. Wear hats, sunglasses and use sunscreen every two hours.
Make sure you re-apply after you have swum or done any strenuous activity.
Remember to apply the sunscreen on your hand first and then on your child's skin to ensure your kid's safety from sun exposure.
9. Play up Some Interesting Games
Your little ones will soon get bored of making sandcastles over and over again.
To make it fun for them, hide some props or toys beneath the sand. Give them clues and ask them to dig them up. Play treasure hunt and keep them excited.
10. Baby Powder for the Babies
As the little ones roll over and get sand all over them, it can be a little hard to get those off sometimes. Use Baby Powder to help you out in the process and de-sand your babies.
11. Set up a Private Zone
Keep a separate bag or pocket that your kids know they shouldn't mess with. Store essential belongings such as phones, keys, and money over there to not misplace them.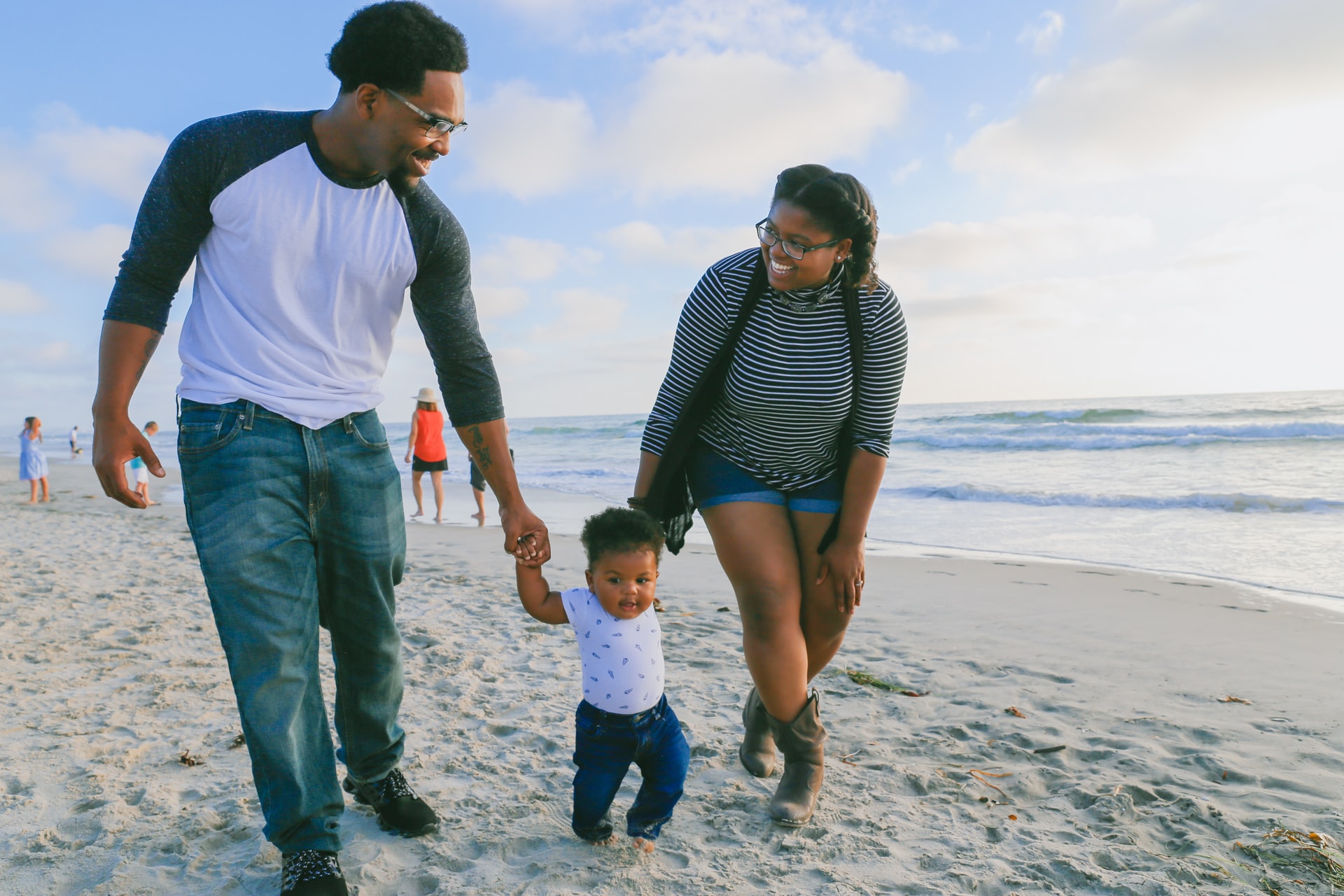 12. Take Advantage of Small Containers
Bring extra food with you to the beach in case something goes wrong.
There are plenty of small containers at your home to, make use of. Bring diced fruits, vegetables and various sorts of snacks too.
13. Freeze Foods to Save Space
Freezing up food the night before could save a lot of space for you. You don't need a heavy ice bucket to keep things cool. Frozen food will also be lighter to carry.
14. Store Your Keys Smartly
Your house and car keys need to be kept in a place where you can quickly grab them while leaving and find them back when you return.
Make use of key-rings or extra straps to avoid searching keys from the bottom.
15. Be Prepared to Depart as Well
Telling your kids to gather their toys and stuff just a few minutes before you decide to leave the beach could make them feel disappointed. Tell them a little earlier and pack little things ahead.
16. Dust Broom in the Car is Important
As you load the car after a long day at the sandy beach, it's quite obvious to your car will fill up with sand and dirt.
Keep a dust broom in the back of the vehicle to help you during the messy beach days.
17. Make Sure You Have Fun at the Beach
You will plan days ahead and prepare everything.This may stress you out.
Don't get caught up in the process and instead enjoy the moment you spend at the beach. Play with your tiny ones and make sweet memories.
Final Words
It takes a lot of planning and effort when you're a family. But don't let that dishearten you or skip your beach day. With a little preparation and patience, you'll have a great time at the beach with your children.
Stepheny is a content writer at FeedFond. She's a loving mother to her two children and is passionate towards child psychology. To read more of her articles, visit FeedFond.com.