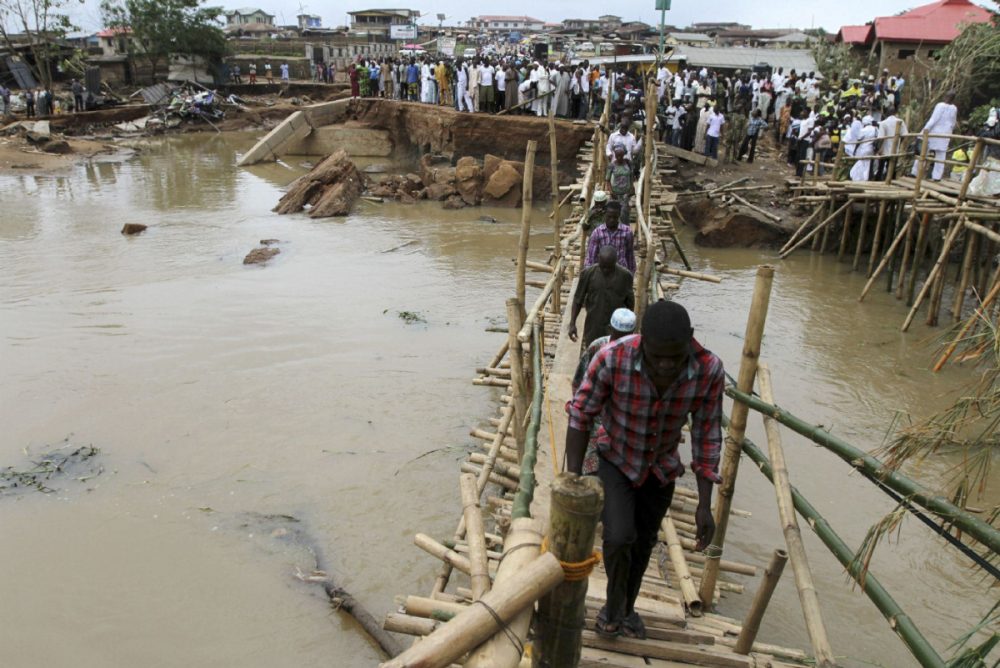 The Benue State Emergency Management Agency, SEMA, said over 110,000 people in 24 communities including Makurdi were displaced by flood.
The executive secretary of the agency, Boniface Ortese, told the News Agency of Nigeria (NAN) in Makurdi on Wednesday, August 30, 2017 that over 2,769 households were also affected.
Achusa, 200 houses were affected with 5,125 persons displaced.
Idye, 217 houses were affected while 5,200 persons were displaced.
Wurukum Market, 218 houses were affected with 1,000 persons displaced.
Genabe, 200 houses were affected with 5,021 persons displaced.
Industrial Layout, 69 houses were flooded and 4,310 persons displaced.
Demekpe, 111 houses were affected while 7,820 persons displaced.
Wadata Market, 150 houses were affected and 4,300 persons were displaced.
Agboughul-Wadata 201 houses were affected and 5,728 persons displaced.
Katungu, 6,031 persons displaced, 137 houses were flooded.
Behind the Civil Service Commission, 200 houses were submerged in flood and 5,777 persons were displaced.
Meanwhile, the state commissioner for Water Resources and Environment, Mr Joseph Utsev has urged the Federal Government to include Benue among states to benefit from the N1.6 billion ecological intervention fund.
Utsev said that since 2013, the state had not received any ecological assistance from the Federal Government.
He said that if adequate budgetary provisions were made, many disasters may be mitigated since natural disasters could only be controlled.
The commissioner said that dredging the River Benue would provide permanent solution to the recurring flood in the state.
"Benue Government is looking for ways in which River Benue can be dredged; this is because by dredging the river, majority of the water can be accommodated and thus, prevent future overflow.
"The ongoing research so far, shows that the preliminary study would cost about N8 billion while the main project would gulp about N300 billion.
"And this is where we need Federal Government financial intervention to execute the project, since the funds are much,'' he said.