A teenager's arm was hacked open by his machete-wielding father who accused him of failing to clear up after a party.
Mathew Wright was left with blood spraying from a gaping wound in his forearm after his father – also called Mathew – slashed him with the 14-inch weapon.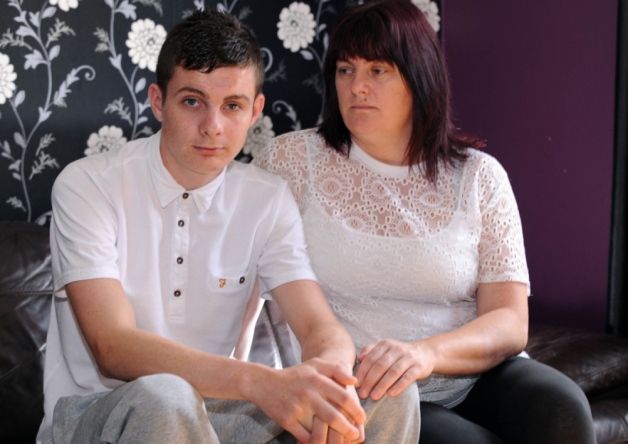 The 19-year-old hit out at the justice system after his attacker escaped a jail sentence – receiving 180 hours of unpaid work despite leaving him scarred for life.
Sheriff Peter Hammond allowed 42-year-old Wright to walk free from Livingston Sheriff Court on Friday despite admitting the brutal attack on his son in Bridgend, West Lothian, last August.
The teenager, an apprentice electrician, spent four days in St John's Hospital in Livingston receiving treatment for his injury which has left parts of his arm permanently numb.
He said: "I was at a friend's house after work when my dad started sending me angry texts. He'd let me have a party with friends at his allotment and we'd cleaned up afterwards, but he was being picky and said it wasn't enough.
"He started to threaten me. It was gala day the next day and he sent me a text saying, 'You'll never see another gala'.
"I went to his house to speak to him and he went upstairs and came back with a machete about 14 inches long. I ran towards him and he struck me in the arm. The look in his eyes was just evil. Blood sprayed up in the air. It was spurting out of a 10cm gash. I took off my T-shirt and wrapped it round my arm to try and stop the bleeding then ran out."
Mr Wright, who was 18 when he was assaulted on August 2 last year, received 26 stitches to his arm.
He added: "I've not seen my dad since it happened. I started getting panic attacks in the weeks before the court case because I didn't want to have to confront him. I've also been on anti-depressants since the attack.
"I was gutted he got away with community service. I can't understand how you can slash someone and not get jailed."
The unemployed father, who lives in Auldhill Crescent in Bridgend, was divorced by wife Karen in January following a seven-year separation.
Mrs Wright, 44, manager of a day care centre for the elderly, lives with her two children, Mathew and Zoe, 18. She said: "I think it's disgusting he wasn't jailed for stabbing his own son. His lawyer told the court he was needed to help his new partner look after her disabled child. He'd been jailed for violence while we were married so this wasn't his first offence.
"My son suffered damage to his muscle, tendon and nerves as the wound was so deep."
Tory Lothians MSP Cameron Buchanan said Wright's sentence sent out the "wrong kind of message completely".
He said: "There's no point in having tough talk on knife crime and sentences if it's not seen through in the courts. It will do nothing to deter those considering using a machete."
Wright senior had been charged with assault to severe injury and permanent impairment. He could not reached for comment.
(via Edinburgh News)