Rapper Drake got "friend-zoned" on stage by female professional basketballer Skylar Diggins on stage at the Excellence in Sports Performance Yearly Award (ESPY).

Drake, who has been a long time admirer of Diggins has not been mute about his admiration for the Womens National Basketball Association (WNBA) superstar and used the opportunity he got at the ESPYs to express his feelings towards her.
Half-way through his reading of the poem "Can I Dig In" which he wrote for Diggins, Skylar appeared on stage and kissed him on the forehead, signalling the end to Drakes "craziness" as Diggins put it.
Brothersonsports reports:
Rapper Drake is hip hop's official tender thug, a position that has not really been filled since Ja Rule was on the scene in 2003. Even though his music gets the attention of a ton of females worldwide, one of them has seemed to elude those sensitive melodies. That person would actually be one of the hottest athletes, culturally and physically, which is none other than basketball phenomenon Skylar Diggins. Drake has made it known publicly his admiration for the Tulsa Shock point guard but last night at the ESPYs she made her feelings known when she placed a kiss on his forehead.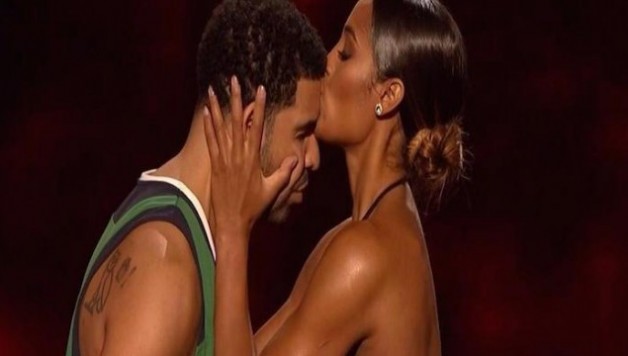 For those of you that have never been unfortunate enough to know what that is, it is the symbol for man's ultimate hell: The Friendzone. Not to mention Drake received this while hosting the ESPY's, meaning he shared this shame in front of America and its popular athletes.
The whole scene started off when Drake wore Diggins' number 4 Notre Dame jersey and read a poem entitled, "Can I Dig In?" As he was reading, Diggins walked on stage and surprised the rapper. They both agreed in order for the stalking to stop, it had to be settled with a kiss. So Drake closed his eyes and Diggins kissed him on the forehead while obviously planned sparks erupted on stage.
This finally puts an end to one of the greatest thirst quests in history. Drake has shown much love to Diggins by posting various photos of her. But unfortunately the hilarity of these moments almost came to an abrupt end when Diggins' boyfriend, Daniel Smith, posted a photo of them together. Drake then responded with a photo of himself in Diggins' Tulsa Shock jersey T-shirt.
It is a good thing that this is all dying down because it is silly but very understandable. Diggins is one of the most beautiful women athletes. If you need proff you can check her out in the last Sports Illustrated Swimsuit Issue. You have to give credit to a woman who can make a grown man wear WNBA apparel.