I am particularly excited to be here today at the WinBiz Conference 2013 because progress in Entertainment and media needs the intervention at every level of Women in Business. And we already have a good taste of the possibilities because many new and successful interventions in entertainment and media in Nigeria today are indeed driven and championed by very capable, confident, visionary women. And there are many more who need to recognize the reality that entertainment and media is the new oil&gas and with Nigeria's population there are loads of opportunities for so many ancillary businesses to prosper.
First lets talk about what you already know in terms of what's driving the trend in media and entertainment across the world but especially so in Nigeria.
I am in the business of producing television so I will focus on that for this short time that I have. For those that were around in the 80s and up to the mid 90s, you could say that you witnessed the golden era of TV programming in Nigeria. Those were the days of "Things Fall Apart", "The New Masquerade", "Cockcrow At Dawn", "Behind The Cloud", "Second Chance", "Village Headmaster", "Tales By Moonlight", "Ripples", "Checkmate", and many more. Audiences were treated to engaging content and quality culturally-relevant entertainment that are still memorable to this day. But these were entertainment packages reminiscent of the old order of content  consumption – You had to wait for it.  If you watched Village Headmaster typically at 8pm on a Thursday evening, you had to wait at least 168 hours before you could see the next episode!
[pull_quote_center]In 24 hours, 350 million photos are uploaded to Facebook. In fact, If our Nigeria Television Authority (NTA) had been airing new contents every day for 24 hours non-stop since the day it was established, it still would not have as much content as YouTube does today.[/pull_quote_center]
Even NTA's Network News was every 24hours…well, I guess not everything has changed but you get the point.
By today's standards, 24hours is an eternity in media and entertainment programming and content deployment.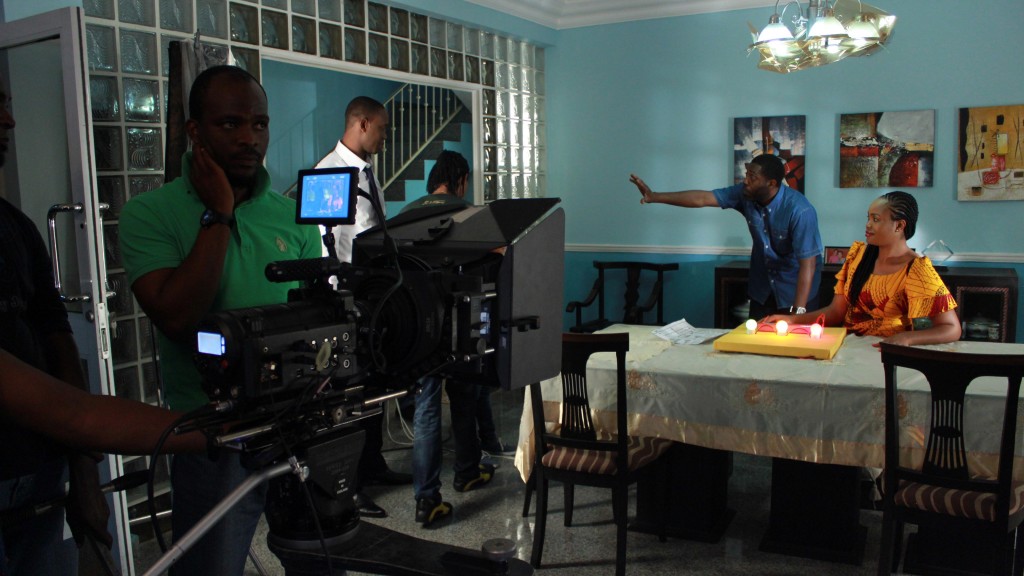 24hours today is just about the time it takes for 4billion videos to be viewed on YouTube. 24hours is how much time about 400 million tweets go up on Twitter. In 24 hours, 350 million photos are uploaded to Facebook. Infact, If our Nigeria Television Authority (NTA) had been airing new contents everyday for 24 hours non-stop since the day it was established, it still would not have as much content as YouTube does today.
In music video alone imagine that D'banj's Oliver Twist, has been viewed on YouTube alone almost 23Million times? PSquare's Alingo, has had 5.8Million views! Sir Shina Peters released a nationwide hit album (ACE) in 1989; the album was number one for close to a year and gave Shina Peters a career breakthrough. The popularity and success of Shina Peters' ACE, can in no way be compared to Psy's Gangnam Style with over 1.8 billion views on youtube.
So, how is YouTube able to have more content than NTA in just 8years, how does Facebook get over 1 billion users, and twitter over 500 million users?
The magic of the new media lies in two key trending factors – MOBILITY and CONVERGENCE. 
Because new media connects to our innate tendencies. We can't break away from our desire to see and be seen; over the years, conventional media has served that appetite with gross limitation. It served us our favorite programmes in piece meal, we could not choose what we wanted to see and how we would like to see it, and most importantly, we were not allowed the chance to be seen (we really never got any chance at being a celebrity). What new digital media technology gave us is a chance to be active participants in deciding what we see and how we are seen.
The magic of the new media lies in two key trending factors – MOBILITY and CONVERGENCE.
When CNN says 'Be the first to know', or CHANNELS TELEVISION in Nigeria says 'The news at your fingertips' they are simply expressing the unprecedented access that audiences now have to content with little regard for where they are. In 1993, if you missed the news of the June 12Election Annulment as it broke (on any media), you would have to wait for almost 24 hours before you could get an update – that's because you were not at the right place at the right time; you were not where your television set was. In 2011, during the 'Occupy Nigeria' protests, you need not be where your television or radio set was, or at any of the protest venues, everything seemed to be happening on your smartphone, even details that terrestrial broadcast stations missed out on were constantly being shared around on phones, beyond the borders of Nigeria. It would be very interesting to calculate the difference in the time it took for the news of General Sanni Abacha's death to saturate Nigeria and the time it took for the 'Oga at the top' video to saturate the country. It might interest you to know that close to 80% of the people that saw the 'Oga at the top' video, did so using a mobile phone – MOBILITY.
As someone puts it, "…the social web is the modern version of Alice in Wonderland, where we are following not one, but many rabbits down innumerable rabbit holes", that is quite true about our digital consumption pattern. It is now commonplace to have a single programme being simultaneously broadcast in multiple versions to suite different devices and platforms – television (satellite and terrestrial), computers, tablets, smartphones, game consoles (X-Box, Playstation), portable TV (Walka) and so on. So, you could start watching a programme in your living room, and if you need to leave the house, you simply switch to a mobile device (smartphone, tablet, or mobile TV) while in your car, should you get to your office, you switch to a computer, and all the while, you are tweeting about the programme on Twitter, sharing comments on Facebook or Google+, or you could download it and own a copy of your favorite programmes. About 4billion people saw the opening ceremony the London Olympics 2012 live, via all broadcast platforms at the same time – that is CONVERGENCE.
Once we found a platform that allows us to see what we want to see, where we want to see it, how we want to see it, and also to be seen, the ground was set for a media explosion as never seen before in human history. Mobility and Convergence are the two most important factors feeding our desire to see and be seen and voraciously shaping the trends in entertainment business today. If I cannot access your content or presence from wherever I am and on more than one device, you might as well count yourself out of the competition – you are not in the TREND.
Content creation is no longer the reserve of some curator or producers or broadcast houses, it is in the hands of everyone who own one of the over 4.2 billion mobile phones around the World. The thinking behind CNN's iREPORT underscore this understanding, same with AL-Jazeera's AJSTREAMS, and several other audience-generated content that are now being broadcast on television. When the Boston Marathon bombing happened in April 2013, many of the videos of the incident was fetched from uploads via mobile devices. During the manhunt that followed, residents of Watertown and surrounding areas were asked to stay indoors, and the public transportation system and most businesses and public institutions were shut down, creating a difficult situation for broadcast stations to cover. Local ABC affiliate WCVB Channel 5 got its coverage of the search from videos sent to the station by residents of the neighbourhood where the search was being carried out.
To state it simply, the era of MASS-MEDIA (where we all sit back at home and some folks dictate what we see or whether we can be seen) is over, we are now in the era of ME-MEDIA (I choose what I want to see and whether I want to be seen). This trend is opening tremendous opportunities in ways that are simply mind blowing.
In Nigeria, only a part of these opportunities are being harnessed.
We are yet to fully take advantage of the abundance of wealth that can be created in the businesses that are associated with new trends in entertainment. We are a 'show' people, there are a lot of performance artists spread across the country churning out awesome creative pieces from different areas of the performance and creative industries. Check out Youtube Nigeria, AfricaMagic, IrokoTV, Not-just-ok.com, Too-xclusive.com, Dobox and a many more, and you would see a massive pool entirely driven by Nigerian 'showmanship." Therein lie the opportunities that are waiting for Nigerian entrepreneurs and investors.
We are yet to fully take advantage of the abundance of wealth that can be created in the businesses that are associated with new trends in entertainment.
Where are the Entertainment Lawyers?
Business is about contracts, terms, and condition, unfortunately, entertainment business in Nigeria is grossly unattended by legal practices as is the case in some parts of the World. Millions of content are generated, uploaded, distributed, shared, downloaded on different platforms daily in Nigeria. In the process, a lot of legal breaches take place; right are violated, terms are compromised, laws are broken, but the larger chunk of the players and actors in this field do not even know. Who are the entertainment lawyers in Nigeria? Not so many people know, maybe five or ten can be mentioned, but in an industry that employs close to one million Nigerians, that number is completely inadequate.
There is a great vacuum that entertainment lawyers can fill in the industry, just as there are great business opportunities for them.
Where are the APP Developers?
There is Afrinolly, Dobox, Spinlet, and a few other apps but, looking at the core of the challenges that the Nigerian entertainment business is facing, one does not really find apps that are bringing the right solutions. Piracy is a major problem in the entertainment industry, there must be a way that technology can come in to stem this problem. This could be in creating content access and payment alternative that can redirect distribution.
What is being done about content convergence is not enough; there are needs for systems that create a seamless thread for an online and offline loop in ways that do not stall viewer experience.
Where are the Data Service Providers?
If you have tried streaming a 5minutes video on any online video platform, you probably won't need to check for the meaning of the word 'buffering' in a dictionary. Sometimes, a 5 minutes video can take up to 20 minutes to buffer; yes, the content is available, but the technology to drive it is annoyingly slow. I like to see it as an opportunity for service providers and technologists to give us a solution that can birth another business. In the early days of GSM in Nigeria, service provision was a major challenge, many Nigerians carry more than one mobile phone (the situation has not changed much today). However, carrying more than a phone was an option, because multiple sim phones were introduced into the telephone markets. Can the same technology be adapted for data service? Can we have a universal hotspot device that uses more than a sim, and that is intelligent enough to switch to the fastest network per time?
The size of data service that the country currently have does not match the size of data consumption that is needed to drive new trends in entertainment business, here also is a great opportunity for technology entrepreneurs.
Now, let us guess how many filmmakers are out working on different film projects daily across the country. I don't think the number can be less than 50,000, if not much more.
Who is gathering the research Analytics and Insights?
What is the online behavioral patterns of Nigerians: Who is online, when, on what device, what are they watching, uploading, or downloading? Analytics and insights are big businesses, they also help in taking informed decisions. Nigeria has the largest internet usage in Africa, over 28.3% of internet consumption in Africa is from Nigeria – that is a lot of data to be tracked and managed, and that is a lot of business to be done. Quite a lot of advertising and marketing decisions are based on assumptions, online content creation and targeting becomes even more difficult when our digital footprints cannot be analyzed. That is an opportunity waiting to be grabbed; insights and analytics provides solutions for diverse sectors of the entertainment industry and I am sure that many business decision makers would be willing to pay to get insights to the patterns of the digital lives of the demography that they target. It may interest you to know that the day of the week and the time of the day that you upload a video online may be critical consideration to whether a video would go viral or not; that is what analytics can do – that is why marketers pay Google, Facebook, Twitter etc. for insights.
We need film production support services.
Guess how many film productions are going on in different locations in Nigeria daily? A lot of the times, transport logistics for members of cast and crew are poorly managed, many a times, casts and crew are fed in very embarrassing and unhygienic manner, most producers do not even make a plan for toilet facilities. The conditions under which many of the films you see are made is quite appalling, but it can be better. Now, let us guess how many filmmakers are out working on different film projects daily across the country. I don't think the number can be less than 50,000, if not much more. All these people need support services that can give them some sense of dignity in what they do – there can be mobile eateries that serves their meals in proper dishes and gives them comfortable chairs and tables, other than the way many productions have the crew eat in corners and in production buses, all the time chasing flies off their meals. There can be mobile lavatories that can match the kind of comfort and decency that many of us have in our homes. These are opportunities for entrepreneurs in welfare and hospitality business. Filmmakers already have a lot to attend to on a film project, the industry needs some service providers who can take the trouble of welfare and hospitality off them.
Where are the film studios?
Every filmmaker would like to shoot in a near 100% controlled environment, which is only obtainable in a studio. So, where are the professional film studios? Maybe Tinapa in Calabar, but given the quantity of film projects, there is a huge need for more. Film studios are capital intensive, but there can be joint investors who can take this onboard. I do believe that there is an opportunity for investors to tap into here.
The latitude of opportunities available in the entertainment industry are almost immeasurable. They are commensurate with the size of content that are continuously being produced everyday in the country, and with the proliferation of digital media and social web, it is hard to quantify the wealth that the entertainment business is currently creating. We know for certain that entertainment business in Nigeria is on its path to a big boom, what remains uncertain is what innovations individual entrepreneurs will bring into the industry to speed up and expand the boom.
A speech presented at the WOMEN IN BUSINESS (WimBiz)12th Annual Conference held in November, 2013 in Lagos, Nigeria
Femi Odugbemi is an award-winning filmmaker, TV Producer, Writer and a respected voice in Nigeria's art and culture. His critically-acclaimed film 'Bariga Boy' won Best documentary at the 2010 Africa Movie Academy Awards(AMAA). He has also received the 2010 AfroPop Prize sponsored by the National Black Programming Consortium in the United States. He is a Past-President of the Independent Television Producers Association of Nigeria ITPAN (2002-2006). He has been a juror for the Emmy Awards, in New York, The African International Film Festival, and recently Head Judge for the Afrinolly Short film Competition and the prestigious Africa Magic Viewers Choice Awards. He is Co-Founder and Director of iRepresent International Documentary Film Festival, Lagos and the CEO of DVWORX Studios, Lagos. He is the first Elite Voice on The Trent.
The opinions expressed in this article are solely those of the author.