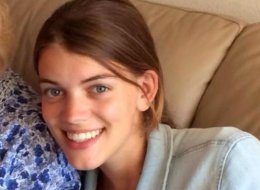 A Dutch father grieving the loss of his only child has penned a distraught open-letter to Vladimir Putin, detailing the life he envisioned for his 17-year-old daughter. Elsemiek de Borst died in the attack on flight MH17 last week, one of 298 passengers that perished over Ukrainian countryside.
Over the weekend, her father Hans de Borst, wrote the missive, which has been widely shared online, in which he told the Russian leader of how his daughter wanted to become an engineer.
De Borst's letter starts: "Mr. Putin, Many thanks to the Separatist leaders of Ukrainian government for the murder of my dear and only child, Elsemiek," adding: "Elsemiek would next year take her final exam, along with her best friends Julia and Marina, and she did well in school. She then wanted to go to TU Delft to study engineering, and she was looking forward to it! She is suddenly no more! From the air she was shot in a foreign country where a war is going on."
"Gentlemen of the above, I hope you're proud of including her and her young life was shot up too, and you can look in the mirror!" The letter concludes: "Thanks again. Sincerely, Elsemiek's father, Hans de Borst from Monster, whose life is ruined."
According to the Telegraph, Elsemiek was travelling to Malaysia for a holiday with her mother, brother and stepfather. On Monday, separatists finally agreed to release the bodies of the victims, which had been stored in a refrigerated train close to the crash site for several days.