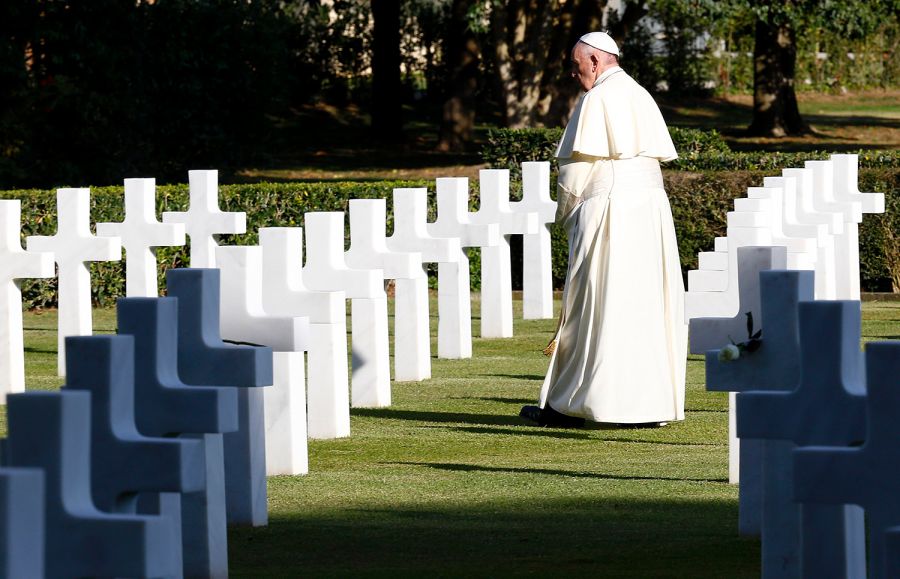 Pope Francis is spending All Souls' Day, the Catholic day of remembrance for the dead, celebrating Mass in a U.S. cemetery for World War II soldiers and visiting the site of a Nazi massacre of civilians.
The pontiff led a service on Thursday, November 2, 2017 at the Sicily-Rome American Cemetery of Nettuno, about 60 kilometres south of Rome and was later due to pray at the Fosse Ardeatine memorial in the southern Rome.
"No more, no more. Today we are praying for all the dead, especially these young people buried here.
"We are also praying for today's dead, the war dead, including innocent children.
"This is the fruit of war, death: may the Lord give us the grace to cry," Francis said in an off-the-cuff homily.
Some 7,861 U.S. soldiers are buried in Nettuno, most of them killed during the Allied invasion of Sicily, in July 1943, and the beach landings of Salerno and Anzio a few months later, which paved the way for the liberation of Rome, in June 1944.
At the Fosse Ardeatine (Ardeatine Caves), occupying Nazi troops executed 335 civilians on March 24, 1944, in retaliation for the previous day's killing by Italian Resistance fighters of 33 German soldiers.
"Wars produce nothing but cemeteries and death: this is why I wanted to give a signal at a time when our humanity seems to not have learned, or not want to learn the lesson," Francis said on Sunday. (dpa/NAN)