by Victor Ochieng
A 20-year-old man from Cleveland, Ohio has made claims that his employer told him to either cut his shoulder-length dreadlocks off or get fired.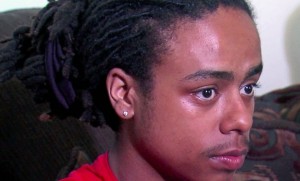 The man, identified as Charles Craddock (pictured), is a mechanics student who sought the job to help him raise money for his tuition. He felt as though it was a great move in the right direction when he finally landed a job with Cedar Point, an amusement park, working as a food service associate.
However, Craddock faced one challenge — his employer asked him to cut his locks or forget about the job. He knew this dilemma would affect whether or not he would be able to pay for his fees at Cuyahoga Community College.
According to Craddock, the instruction to cut his dreadlocks came after he had already passed the interview, gone through an orientation program, and moved into the employee dorms. But he was still hesitant about changing his hair for the job.
Generally, employers choose to disclose how a person is required to look before they are officially hired so that every prospective employee can determine whether they are willing to follow the rules beforehand. In Craddock's case, however, the young man claims that the instruction to cut his locks came during training.
Cedar Point spokesman Bryan Edwards has refuted Craddock's claims, saying that the 20-year-old was told several times, even before moving into the dorms, that he had to do something about his hair so that it would meet the park's set standards.
One of the standards for male employees is that their hair shouldn't be longer than their collars, a rule that Craddock didn't meet.
The young man no longer works with the park, claiming that he was fired.
The park has denied the claim through a statement: "Charles Craddock resigned from his job as a food services associate on May 3 because he chose not to comply with our grooming standards."
In a counter argument, Craddock says he was fired and was even provided with termination paperwork, including a "termination list" for him to sign. He opted to sign it because he refused to cut his hair. He, however, reveals that had he been given an option to pull his hair back instead of cutting it, he would have complied.
"The trainer said I couldn't pull it back. He said I would have to cut it," Craddock said, adding that he chose not to cut it, and because of that, he was told to leave.