[dropcap]T[/dropcap]he technology of online gambling has come a long way! So just read on to see our take on the origins, present state, and the future direction of the industry.
The Online Gambling Industry Grows with New Technology
Ever been to a land-based casino? You have a chance to play any game you want, equipped with modern technologies, whether its baccarat, blackjack or online craps for real money.
All the sweaty, nervous people there… You wait in line for your turn as if you're a kid in Disney world; there are so many games, and they're just so hard to navigate.
Well, we feel you, and so does the online gambling industry. This is one of the world's fastest-growing industries. And to no one's surprise — they've continued to make gambling even better over time!
And as the internet as has grown, so has all its platforms; and online gambling has really taken the world by storm! So, for a start, let's look at its humble origins.
Started from the Bottom, Now They're Here
From an average brick-and-mortar casino to every game you can possibly even think of on a mobile app, the industry has come a long way!
It all started back in the 1990s, when what are now everyday concepts like "the Internet" and "random number generator" were born. These were the basic ingredients needed to bring gambling online and to the masses.
Looking at it internationally, a Free Trade and Processing Act was signed in Bermuda and Antigua in 1994, and this was how the first online casinos got their licenses. 
1994 was a pretty fertile year in another way too — a then small UK-based company called Microgaming launched its first casino online.
Another monumental year was the following 1995 for two reasons — one, NetEnt was launched, and today, everyone knows their name. And two, because encrypted money transfer technology was finally in development, at long last! CryptoLogic was one of the first providers to offer this service, and it also launched its own internet casino, which is still popular to this very day.
Nowadays, good casinos use 128-bit SSL data encryption; and the very best of the best use 256-bit data encryption, making them technically bulletproof!
Now some very well-known names such as Betdaq and Betfair came about in 1998; and by this time, you could pretty much find all the most popular gambling games online. The graphics weren't quite as stunning, but you could already play video poker, baccarat, blackjack, or Paddy Power Bingo.
Now when it comes to the U.S. specifically, they had a bit of a kerfuffle. Their IGPA (Internet Gambling Prohibition Act) was approved in 1999. They also tried to weave the Federal Wire Act from 1961 into internet gambling, which is really quite a story in itself!
Then, in 2006, the UIGEA was passed (the Unlawful Internet Gambling Enforcement Act), which essentially made it illegal for banks to process any money transfers from online gambling. Now, come December of 2011, the Wire Act was reversed to just include sports betting, making all other types of betting legal. 
So for online gambling, it's still a long road. In 2012, Delaware was the first state to legalize it, and Nevada followed suit with online poker in 2013. Later, New Jersey and Pennsylvania joined the club in 2016 and 2017, respectively.
More states are predicted to legalize online gambling soon, and the same goes for many other countries too!
Virtual Money Is Real Money Now
Analysts predict that online gambling is going to generate a cool $1 trillion by 2021, and mobile phone apps are seen as a key factor in this. This is all a testament to how convenient it has become to gamble from the comfort of your armchair.
The revenue has grown like wildfire since it started. It jumped a whopping 80% from 2008 to 2012, when it was making $4 billion a year. 
By 2015, the yearly revenue was estimated to be $41.4 billion.
Europe is leading the way in this, taking up nearly half the global market revenue in 2016. Online gambling is legal in most EU countries, and gamblers are not taxed in the U.K., making the latter country very fertile soil for this kind of venture!
There is less and less lag with broadband internet, and deposits are instantaneous. All of these are factors influencing the growth of the industry.
And cryptocurrency is its latest brainchild!
The Rise of Cryptocurrency 
Blockchain technology changed the game when a person or a group "Satoshi Nakamoto" created it in 2008. This gave rise to Bitcoin — something everyone has heard of, yet many have yet to grasp.
A blockchain is a digital ledger which is networked among all peers, and every peer can see its full copy, not just a part of it. The block in the chain is collected information that has recorded some transactions. It also has a timestamp, which is an encrypted hash of the block that came before it. You can't alter the blockchain retroactively without changing all the blocks that went after it; not without getting caught, anyway!
It is decentralized and public, making it a rebellious break off from the traditional banking system. This means that you can trust the server, without needing any kind of central bank.
Bitcoin was launched in 2009, and it is the most popular cryptocurrency to this very day; however, it's not the only one! 
These cryptocurrencies can be used through a range of platforms, and they may offer additional benefits. For example, the Bitbook.ag platform, which uses blockchain technology, uses BXK (the Bitbook token), which allows people to get back 10% of their monthly losses.
Cashless payment systems such as PayPal, Payoneer, Visa, and Mastercard are also used.
New Trends in Online Gambling Technologies
From funny Nintendo-level graphics online casinos to a "live" casino experience and 5G technology, the development just doesn't stop. From introducing the chat-between-players feature to augmented reality, read on to find out about some of the crazy technological developments there've been so far!
Facial Recognition
This trend encompasses using 3D scanners to make a custom avatar for you. You could then use it in your online gameplay, with all your facial expressions but with your anonymity intact. This is all with the intention of making the experience more real, an obvious necessity for all these technologies.
Gesture Recognition
Well, this is just Sci-Fi. Imagine a 3D camera keeping 22 points on your hand on lock so that you can change the screen without touching anything! You would be like an orchestra conductor, creating the music of your gambling dreams…
Voice Recognition
Voice control in gaming is already a standard in the industry, but it's now making its way into the gambling world as well. This technology will allow the player to make bets by speaking. The player could also speak to the croupier or even other players. 
Virtual Reality (VR)
Virtual reality is already being used in online slot games. The headsets are so perfectly developed at this point, that it almost feels as if you're standing in a real casino. The technology is expected to spread to lotteries, poker, and virtual sports at some point in the near future. 
Augmented Reality (AR)
Augmented reality takes VR to a whole new level! It doesn't feel like you're staring into a magical virtual reality on your computer screen; indeed, it's actually far more sophisticated than VR! The illusion really enchants the senses, because it feels as though the people and the games have come out of the screen to your side. This is something to get used to, as well as something not so widespread yet. Still, with this incredible breakthrough, it might become a standard online casino feature before too long!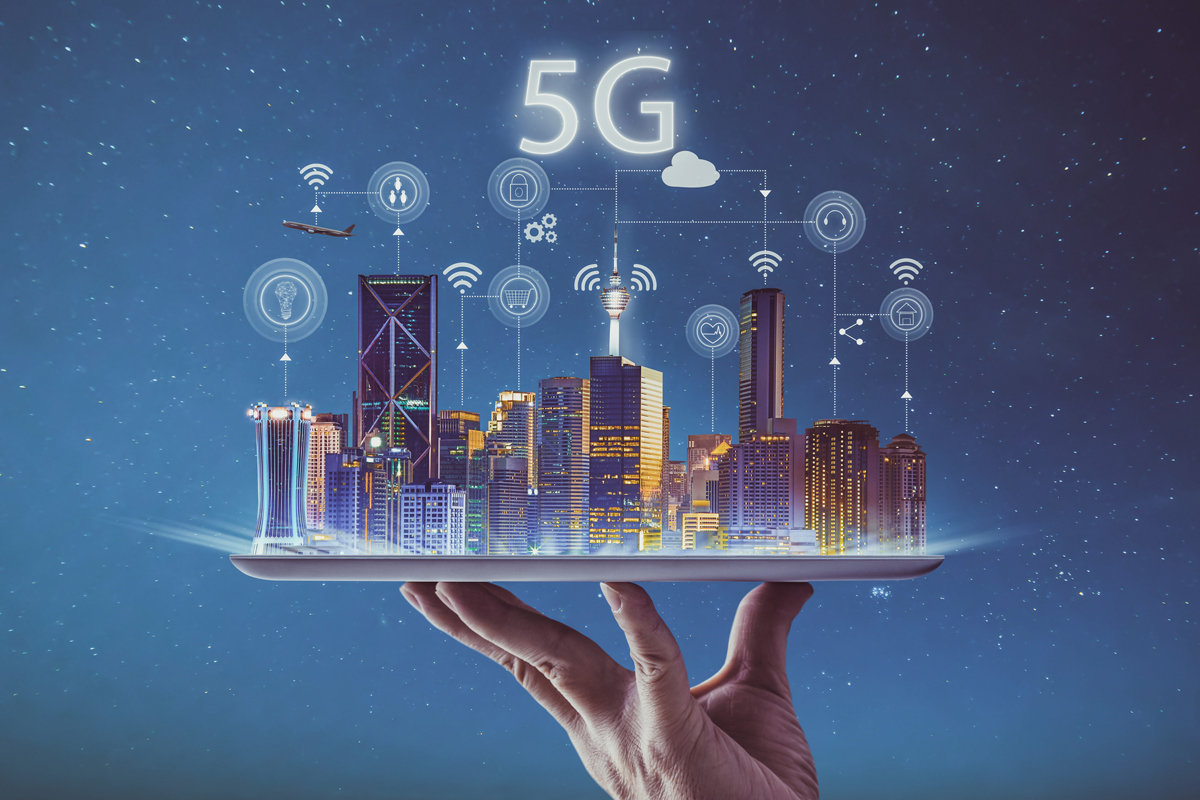 5G Mobile Internet
2019 is the year of 5G, and the world is holding its breath. The 5G equipment has shown the "air latency" to be around ten milliseconds this year, which is still insanely fast. The target latency is under four milliseconds, and we're sure this too will soon be a reality on your smartphone.
This means that it is already 10 to 20 times faster than 4G technology. The practical lack of latency is set to enhance the online gambling experience even more. 
Holographs
5G networks on our phones will also allow for some mind-boggling tricks of technology. It will be possible to make holographic video calls, and that technology is also going to be incorporated in online gambling. In fact, some online casinos have already begun incorporating holograms on their sites!
Wearable Gambling Technology 
Oh yes, that's a thing too! One casino already has an app developed which can be used on your Apple smartwatch. Many other casinos are investing their funds into developing wearable technology, mostly for smartwatches and Google Glasses.
In Conclusion
The future is here! So how are you going to place your next bet?