A building under construction has collapsed in the Nigerian capital, Abuja.
The collapse occurred arround 2:30pm on Friday, August 17, 2018, a witness confirmed.
It was gathered that the building has been abandoned for 15 years by the owner who recently mobilised workers to continue the construction of the structure.
The building is located at Jabi junction, close to a popular Rukkayat plaza in the Nigerian capital.
Rescue officials were seen going towards the building  to commence rescue of the trapped victims at the time of this report.
Two people are feared dead from the incident.
The incident has caused heavy gridlock with many residents and passersby converging at the spot of the collapse.
According to multiple witnesses, more than 10 people are currently inside the debris while two people have been reported dead.
Witnesses said poor construction contributed to the collapse.
"It sounded like a bomb", said Chinedu Ike, a witness.
"The workers, including some women selling groundnut are trapped inside."
Officials from the FRSC, NEMA, civil defence, police and other security agencies are at the building making frantic efforts to rescue the people trapped inside.
The tractors brought were not sufficient and construction companies have been called as reinforcement.
A police officer said two people have been confirmed dead but did not speak on record.
Some rescue victims including the contractor who have various degrees of injuries have been rushed to hospital.
An eyewitness said one of the workers trapped inside the rubble contacted him on phone, but "I could not hear him clearly."
A worker who narrowly escaped the tragedy said over 50 people work there.
According to the worker, the building has been there for more than eight years.
"There is a sewage inside that piece of land and this contributed to the collapse," the worker said.
Rain temporarily dispersed the crowd as more tractors enter the scene to save the trapped people.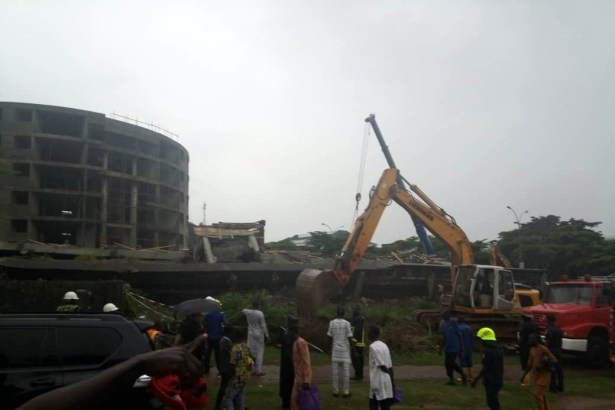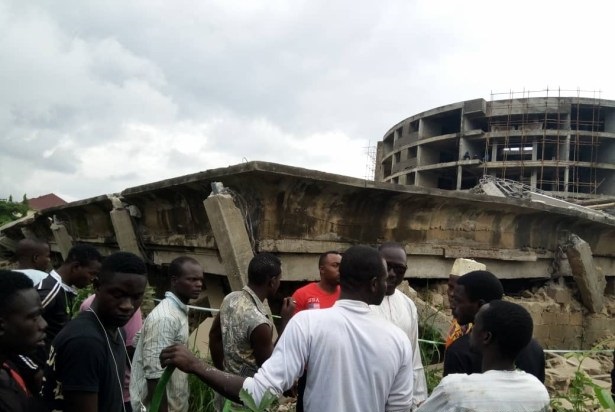 Read more at Nigerian Cable News