A female Medical student at a university in Nassarawa State identified as Yemisi, has allegedly poured hot water on her 32-year-old sister, Oluwafunke Arogbonlo at their house on Road 1, Federal Housing Estate, Mile 4, Port Harcourt, Rivers State.
According to Punch, the victim sustained burns on her neck, breasts, buttocks, chest and back and one of her feet.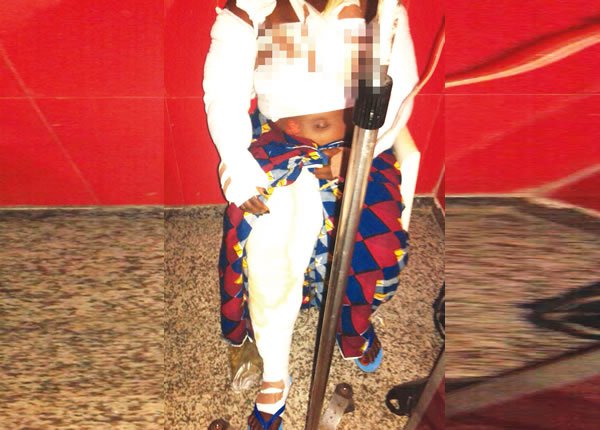 The feuding duo were said to be stepsisters as the victim's mother separated from her dad as soon as she was born, leaving her to grow up with her father who later tot married to another woman identified as Victoria, the suspect's mother.
Arogbonlo and her stepmother, reportedly had a fight on Wednesday, December 2, 2015 during which the stepmother fell to the ground and hit her head against the wall.
Victoria narrated the incident to her children including the suspect who was in school at that time.
Yemisi returned home on Friday, December 4, 2015 exchanged pleasantries with the unsuspecting victim.
The victim, who lies in a critical condition at a specialist hospital in the state was said to be fast asleep on the night of the fateful Friday, December 4, 2015 when the suspect allegedly sneaked into her room and poured a bucket of hot water on her.
Speaking from her hospital bed, Arogbonlo said: "We greeted and I tried to explain to her that I did not touch her mother, that it was a misunderstanding and she wanted to hit me when I dodged and she fell. She told me not to bother about it, that it was gone and we should move on as sisters.
"I was asleep at night when she boiled water. She came into my room with a bucket of hot water and emptied it on me.
"I knew she was the one because immediately she did it, I opened my eyes and saw her. I was in pain."
The suspect reportedly took the victim to a private hospital the following morning, although their father later moved her to a specialist hospital for proper treatment.
The victim's mother, who lives in Lagos and pleaded anonymity said she was alerted to the incident on Monday, December 7, 2015.
She said, "I flew in on Monday night and immediately the plane touched down, I came right to the hospital. She has been in pain ever since the incident and although I learnt the matter had been reported at the police station, the police did not act until I got here and Funke's friends went to make the report again.
"The police had to come to the hospital to take down her statement."
She said the matter was reported at the Ada-George Police Station.
When contacted, the suspect's mother, Victoria, said: "If Funke's people are saying she did not beat me up, then I cannot say anything. When they have told you the truth about what happened, then you can let me know. I am not going to say more than that."
When contacted, the Police Public Relations Officer, Rivers State, Ahmad Muhammad, declined to comment on the matter.
He said: "I am sorry, I cannot confirm or comment on it. I have been on leave and I just resumed. Aside that, I cannot say anything on the matter and I cannot confirm anything to you."