[dropcap]T[/dropcap]he Vassil Bojkov Collection is comprised of over 3000 entirely unique ancient artefacts, each with different shapes, styles, ornamentation, and imagery representations. From richly fragmented vases, to more simplistic yet equally beautiful strainers – the collection has a lot to reveal to a curious audience. Sometimes it is the distinctive shape that piques the interest of historians and cultural explorers. Other times it is the decoration, imagery, figures, or scenes that make people wonder and question the nature and meaning of a particular piece. The material used, along with the high level of craftsmanship and dexterity demonstrated, also features that intrigue audience. These artefacts are no ordinary objects. They are symbols of a distant past. They are story-tellers that unveil captivating legends and historical moments. They are a demonstration of what people back then were capable of producing. And, most importantly perhaps, they are instruments that challenge and provoke our modern-day interpretations and understanding.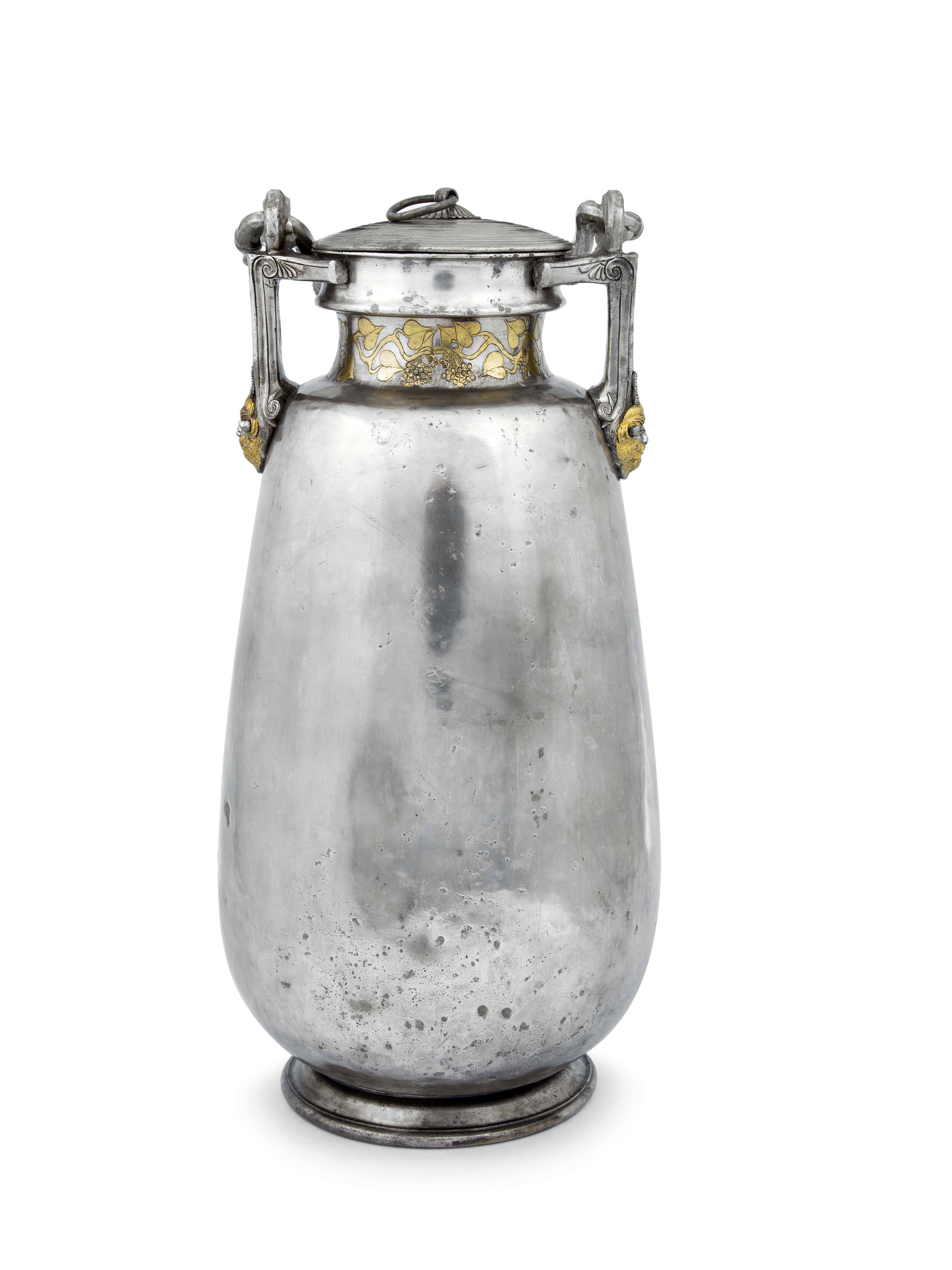 Among the most interesting pieces owned by Vasil Bojkov are amphoras. There is a particularly spectacular silver amphora with Pan heads under the handle attachments, that dates as far back as 460-440 BC. It is excellently preserved with barely noticeable scratches on the body. The silver piece is puzzling, to some extent, because of several decorative details. The details seem to be especially intriguing due to their conflicting nature when it comes to shape, oriental pottery traditions of the time, stylization of particular elements, and more.
The amphora has an elongated ovoid body that becomes larger at its lower part. There is a rounded carination that marks the transition to the wider and concave-sided rim and lip area. Thirty-one individual petals adorn the rosette, which has a faintly curved profile. The base of this artefact has a torus (semi-circular molding) and cyma reversa profile (the convex portion is at the top). The most interesting part of the amphora begins with the vertical handles. They are square in the cross section and decorated with Pan masks. The pan masks featuring on this amphora, part of the Vasil Bojkov Collection, are extremely meticulous in terms of details and stylistic treatment. With carefully crafted conical ears, eyes with large hollowed pupils, long hair parted in the middle and rolled over a ribbon around his head, luxuriant beard, mustache, and incurving horns, the Pans look absolutely real.
The details are truly exquisite. However, there is one slight detail that hints at certain parallels – the hair which is parted in the middle, rolled over a band. There is an earlier version of this image that exists but it has no middle-parting. It starts with the so-called 'Kritian boy' and continues until the mid 5th century. Such stylized versions of the same hairdo are also noticed on the bronze head "Apollo Mantua" from Acropolis, on a marble head from Athenian Agora from 460-440 BC, as well as on the Dionysus masks that decorate a 450 BC silver kantharos from the same collection. There are, of course, other ornamentation similarities too. For instance, the chiseled and glided ivy wreath that goes around the neck of the amphora is an exact duplicate of those on other kylikes and rhyta from Bojkov's collection.
The copying of figural representations or entire compositions is not something unusual. Sometimes it is the exact type of molding or the use of certain recognizable elements, that help us determine where/when a piece has been made. The silver amphora with Pan heads in question is thought to be attributed to an Attic workshop dating back to the 5th century BC.