Another bomb explosion which would have claimed many lives especially those of students, teachers and parents was today, Thursday, December 4, 2014, stopped by the Bomb Disposal Unit of the Nigeria Police.
The homemade device reportedly contained about one kilogramme of explosives and was about 22 cm long and cylindrical in shape. It could not be set off using remote control.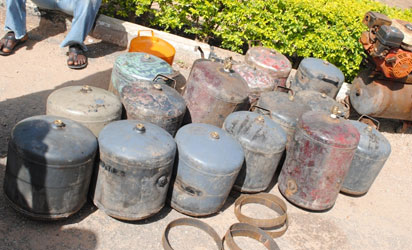 Early police investigations have suggested that the device was supposed to blow up the cash machine outside Tin City Primary School in Jos.
According to reports, the fuse on the bomb had been lit, but was put out before it could explode.
Police investigations revealed that the device was intended to blow up a cash machine outside the school.
The Police Public Relations Officer for Plateau State, Abu Emmanuel, said he was yet to confirm the incident when he wascontacted.