NAN – President Muhammadu Buhari on Thursday joined Muslims all over the world in observing Eid el-kabir prayer at his native home, Daura, Katsina State. The prayer was led by the chief Imam of Daura, Sheikh Safiyanu Yusuf, at Kofar-Arewa Eid ground around 9.30 a.m.
In his sermon, the Imam stressed the importance of sacrifice in Islam. He said that the sacrifice could be done with ram, sheep, goat, cow, or camel. Yusuf said that the meat could be given to the needy and even non-Muslims. He urged people to continue to pray to the almighty Allah to give the country peace, unity, and stability.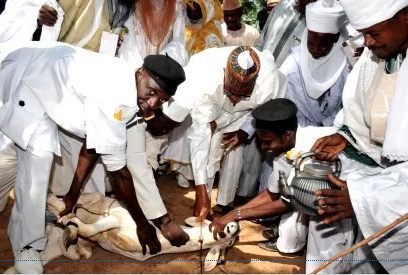 The Emir of Daura, Alhaji Umar Farouq, directed all mosques in the emirate to organise special prayer for peace and stability in the nation.
He prayed to Allah to continue to guide the President to be able to lead the country right. ''We need to intensify prayer for peace and stability in the country, because nothing can be achieved without peace,'' he said.
Some of the important personalities who observed the Eid prayer include Director, Department of Security Service (DSS), Alhaji Lawal Musa Daura, and other prominent sons of the emirate including religious and traditional leaders among others.
President Buhari and the Emir slaughtered their rams after the prayer at the Eid ground. NAN also observed that there was adequate security at the Eid ground and the prayer ended peacefully.