Palpable confusion was the order of the day after the corpse of a 55-year-old woman identified as Mrs. Ayoka Buhari, was nowhere to be found when the family went to the morgue to recover it for burial on Thursday, October 22, 2015
Mrs Buhari, who had died on Wednesday, October 14, 2015 after a brief illness, in the Mowe area of Ogun State, was due to be buried on the fateful day after a wake keep the previous night.
The family were confused when the management of the TOS Funerals, which manages a morgue in the Gbagada General Hospital, could not find the woman's corpse, only to learn later that the corpse had been swapped with another.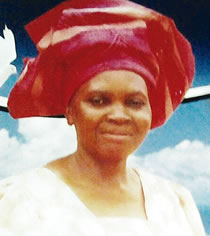 A relative, Folorunsho Adeoluwa, expressed sadness over the incident, threatening legal action against the owners of the morgue.
He said, "The family was asked to come for the corpse at 8.30am today (Thursday), but when we got there, we discovered that they were not ready for us. Later, they said the woman's husband must show up before they release her corpse.
"Her daughter, however, insisted on seeing the corpse. They brought out a corpse and she raised the alarm that it was not her mother."
However, after much enquiries, a worker in the morgue, identified as Femi, explained that there was a problem of mistaken identity, according to Punch.
He was said to have told the family that the corpse was wrongly tagged and given to another man, who lost his wife.
The deceased's husband and a few family members rushed down to Matori, Mushin, to meet the man who was suspected to have taken the corpse but unfortunately, the corpse had been buried before they arrived.
"The man said he had buried his wife and he could not exhume her body unless the family showed him the picture of the corpse they have in the mortuary.
"We all rushed back to the morgue and took a picture of the corpse that the hospital wanted to give us. The woman's husband has not returned from the place," Adeoluwa added.
Even though it has not been confirmed if the buried corpse was Mrs Buhari's own, the first family had identified the photo of the corpse as theirs.
A relative, Deborah Ogunfowora, berated morgue managers for being "careless."
She said, "They don't know their jobs. They are just making excuses. They said the two corpses were brought in at the same time and the mistake happened when they were tagging them.
"Right now I have been getting calls from those at home to know what is going on and I can't pick their calls. Everybody is apprehensive."
Meanwhile, the spokesperson for the morgue, identified simply as Olumide, said the mix up has been resolved, even though it is not clear if was the woman's corpse or not.
He said: "There was just a mix up, which has been sorted out. I am with the family; they are driving ahead of me. We are on our way to bury the corpse. The matter has been resolved."