Nigeria is ranked fourth on the list of top 9 countries with deaths from internal conflicts according to the Global Peace Index 2016.
The report, which is published by the Institute for Economics and Peace sees Nigeria ahead of many war-torn countries such as Yemen, South Sudan, Pakistan, and the Central African Republic. Mexico tops the list with Iraq following in second place. Nigeria is, tragically, just one step behind Afghanistan.
The report also notes that as at 2008, Nigeria had no reported deaths from internal conflicts which indicates a huge increase in deaths from internal conflicts during the 8-year period.
In the surge of increasing police and army extrajudicial killings with recent incidences in mass murder of civilians by Nigerian troops in Zaria Shi'te Muslims massacre and killing of pro-Biafra protesters contributed to the statistics of deaths.
Boko Haram terrorist attacks in the North East region of the country and genocidal attacks by Fulani herdsmen militia in the North Central and part of the southern Nigeria impacted the Global Peace Index causing it to drop generally from 119 in 2008 to 149 in 2016.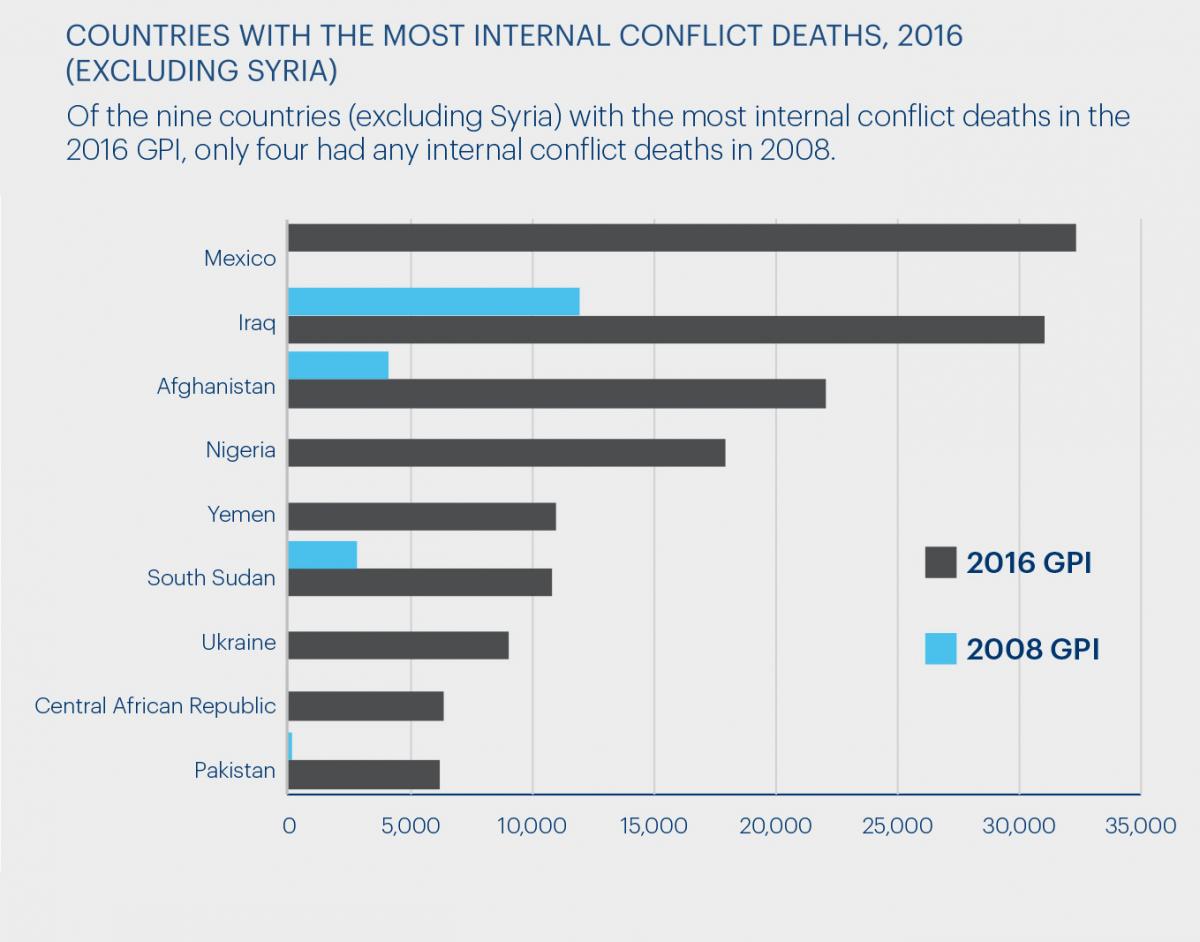 This new ranking signifies a deteriorating state of peace in the country.
Nigeria's current president, General Muhammadu Buhari (rtd) came into office mid-2015 promising to "crush Boko Haram", but violence has increased in the country since he assumed office with increased number of non-state actors and state forces engaging in extrajudicial killings.
A local Nigerian newspaper, Daily Trust, on Sunday, July 10, 2016 reported that the world's deadliest terrorist group, Boko Haram is still controlling three local government areas in Borno State and a large part of its enclave Sambisa forest. This report contradicts claims by the government that government troops had "dissipated" the terrorists.
Read the full report at HERE