One of the malfunctioning card readers used by the Independent National Electoral Commission, INEC, in the on-going Ondo state governorship election has failed to capture the biometrics of Dr. Olusegun Mimiko, the governor of the state.
The incident happened at Ward 7, Unit 21, Ondo West local government area, where the governor cast his ballot.
Mikiko eventually had to fill an incident form before he could cast his ballot.
Addressing reporters after voting, he expressed concerns over the hitches he noticed in the accreditation process.
Our reporter at the polling unit observed that the malfunction of the card reader was staged by the INEC officials with the intent of embarrassing the governor.
"The card reader was functioning and accrediting voters, it worked for the person in front of the governor and suddenly began to malfunction when it was Governor Mimiko's turn," Akin Falade, a voter, told our reporter at the governor's polling unit.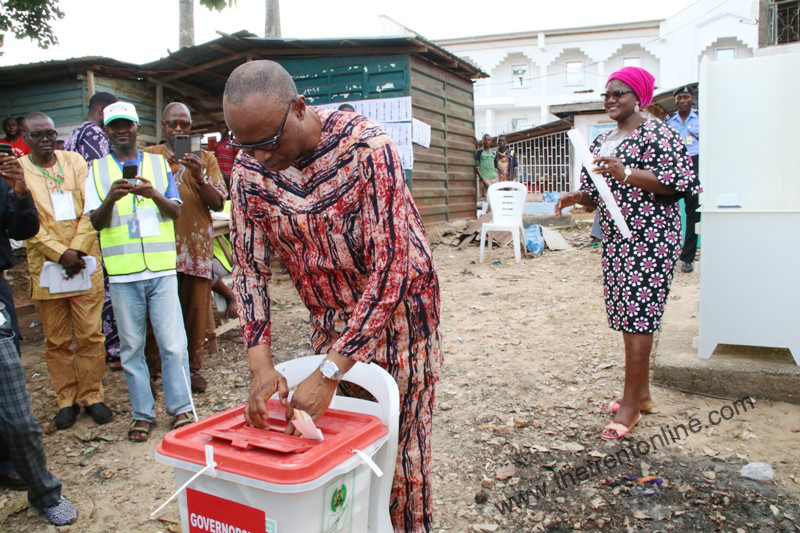 Widespread Malfunction of INEC Card Readers
The Trent correspondents in the southwestern state report that voting commenced early in the morning without major incidents.
However there are reports of widespread breakdown on the card readers used for accreditation. Our findings reveal that the Independent National Electoral Commission, INEC, deployed faulty card readers for the on-going governorship poll.
Voters complain that the card readers "refuse to function" and this trend is causing some agitation among voters. An eye-witness voter who spoke with one of our reporters, on condition of anonymity, said that the high incidents of faulty devices is a "deliberate attempt by INEC to circumvent the electronic process in order to have reasons for using the incidence forms in order to easily manipulate the process and present an already written result in favour of the APC".
Mr. Dayo Akintemi, a voter who spoke with our correspondent at Polling Unit 028, Ward 3, Akure South, also insinuated that the functional card readers is a ploy to rig the poll in favour of the national ruling party, the All Progressives Congress, APC.
"We know this has been their plans all along. That's why they brought in IDP cash in billions through Fayemi and others to influence the process, but we will not allow it," Akintemi said.
Reacting to the incidents of malfunctioning card readers, Segun Agbaje, the INEC resident electoral commissioner, REC, in Ondo State says that the electoral body has more than 250 spare smart card readers to replace the faulty ones.
Agbaje said this on Saturday while speaking with members of the press at Unit 9, Ward 2, Gbogi/Isinkan in Akure South Local Government Area of the state on the sidelines of the accreditation and voting process for the governorship election.
Click on any image to enlarge.