by Onyeka Nwelue
At the closing of NollywoodWeek Paris on the 7th of June, 2015, I saw Stephanie Linus's Dry, which begins with Zara Robbins receiving an award at an event, where her adopted mother is present. Her mother is white. If you paid attention to details in the film, you will still not quickly understand how a white woman's child should have a black skin. This is why every detail in the film is important.
Dry is not really about Dr. Zara. It is about Halima (played by Zubaida Ibrahim Fagge), who is 13 years old and is married off to Sani (Tijani Faraga), a 60 year old man, who constantly rapes her. Immediately after the traditional rites, Sani rapes Halima. She wakes up the next morning and says to one of her co-wives: "Uncle bit me. My body is paining me." Halima gets pregnant and suffers Vesico Vaginal Fistula (VVF), after child delivery. Now, we see her abandoned by her husband and her own father and overly discriminated by the society. They say she smells. They throw things at her in the market. They say she disgusts them. Her co-wives want her out. She is thrown out by her husband and his mother.  This is when Zara Robbins (played by Stephanie Linus) comes into the picture.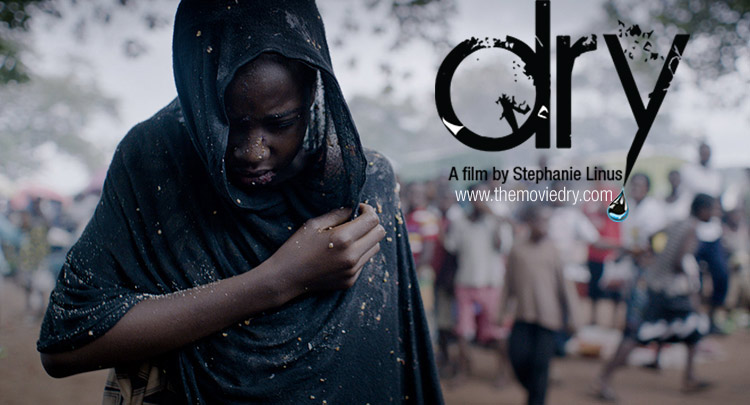 For the most part, Dry is excellently made; if the script was different from the actualized story, then it is well understood. Throughout the film, we are transported back and forth: Nigeria and England. The filmmakers may not have known, but an anthropological find shows that these scenes were shot in the countrysides. However, one is overly penury-stricken. And those are the ones in Nigeria, where we are waiting to receive Zara Robbins, whose mother should have made the journey, but for ill-health, she couldn't; she is worried that over 1,000 women's lives are dependent on her, so Zara has to come in even though she doesn't want to go, for so many reasons that she carrying an internal wound from her past, which takes her to a shrink.
Zara Robbins travels to Nigeria, for so many reasons. On her journey to find Madam Kojo, who sold her daughter, we are presented with details, almost unknown to the world? The questions come: what is VVF? How many women have VVF? How does it happen? How do you cure it? And then, where could Zara's child be? No matter how you may want to summarise it, that Dry is a propagandist work, it is a beautifully stitched story about humanity. It drags you through the facades of beauty; it takes you on a walk through the surface of imperialism. This is because we are presented with a hard truth about child marriage; it sounds funny, as those parts add to the humour of the film, but Linus has been able to create unforgettable characters, stapled with a storyline that, at once, amazes and truncates you. When we see Halima being married off to a very old man, many times her age, we are stunned. We laugh, but what we feel inside is stronger than what we show on the surface.
Dry is masterly orchestrated. The more you watch, the more you want to know what happens to the characters. There is absolutely nothing the film lacks. Those who don't like it, do so at their peril. Its cinematography is beautifully patterned and like a journey too far to do, the audience will find themselves longing for the salvation of Halima.
Liz Benson returns to the screen in this film as The Matron, making a short stellar performance as a doctor. We see her drinking tea once she is shown. Her diction is still the same from old projects. Would Liz Benson as a person change? Would there be a time when she will become something else that she is not supposed to be? Obviously, not now. If there was stereotype, the moment we see Klint da Drunk as Dr. Mutanga, we know something funny would come out. This is after we see the mild, less humourous Dr. Londi. Infact, the beauty of Dry is its characterization. No matter how many numerous they are, they are well-created, well-developed and they all add to the story.
Not to undermine the hardwork of Linus who happens to be the writer, producer and director, Dry would have been a better film if Linus was directed. Sometimes, you could feel that she is being conscious of her character and what the character has to say. Sometimes, she flows into the character; sometimes, she doesn't. If she hadn't directed the film, she would have realized too quickly that there was a mistake when the lady at the hospital gives a form to Halima and her co-wife who brings her to the hospital for treatment, responds: "You can't read and write?" They speak impeccable English! How they can't read and write is so magical and illogical. If a filmmaker's dream is to take his/her work internationally, what he/she has to do, is to pay attention to details, mostly, language. Linus might have succeeded in executing the project, but maybe, the characters would have communicated well in Hausa or whatever language they are bound to speak. Seeing these Hausa characters meddle in English, at home, was very unreal. If that's the only issue I have with the film, then there is really no problem with Dry. It is taut and every scene adds to the story.
We can't argue the genius of Linus. She presents us with facts and figures. She makes it deliberate, but we don't see the film turning into a propagandist project. It sails through as a work of art, able to make sense and educate in ways that are beguiling and informative. Only that at the end, you want to continue moving with Zara, to know what happens with her and Alex, her boyfriend, whose proposal plan was squashed when Zara finds a ring in the drawer of his dining room. She feigns a call from the mother and runs out on him before a candle-lit dinner.
Dry is funny and at the same time, sad. But it is a story we will all like for the beauty of its storytelling.
Onyeka Nwelue is an Assistant Professor of African Literature at the University of Manipur, Imphal and Visiting Lecturer of African Studies at the University of Hong Kong
The opinions expressed int his article are solely those of the author.