A possibly mentally deranged man described as the 'World's deadliest serial animal rapist', has been arrested after a farmer caught him having sex with his missing cow.
The 46-year-old Andy Loyola, from Philippines has reportedly raped several animals including cattle, horses, buffaloes, goats, and went as far as impregnating a cow.
According to Abs-Cbn News, the farmer, Rustico Sarno, said he caught Loyola red handed enjoying a steamy sex escapade with his cow which had gone missing from his farm.
Sarno has previously accused him of raping his cattle, as well as other animals, on several occasions.
Police believe Loyola was under the influence of drugs during his latest assault as they obtained various drug paraphernalia when they arrested him on Tuesday, March 10, 2015.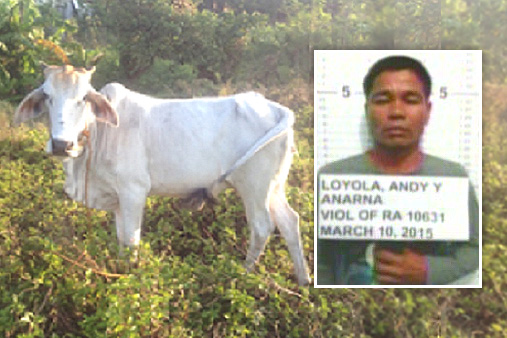 The farmer also claimed that Loyola impregnated the cow during the assault since that particular cow had not yet mated with a bull.
Authorities plan to test the animal to uncover the origin of the the pregnancy.