Tragedy struck at the Mountain Top University, in Ilu Oba, Magboro, in the Obafemi Owode Local Government Area of Ogun State, on Thursday, October 8, 2015 following the collapse of a fence which killed a 4-year-old child.
The collapsed fence was under construction at the permanent site of the institution owned by the Mountain of Fire and Miracles Ministries.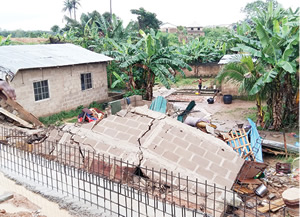 The deceased, Olamide Adegbesan, was said to have slept on a couch with two of her siblings in their parents' house when tragedy struck and she reportedly died shortly after she was rescued from the rubble.
Adegbesan's mum, Mrs. Ayobami Adegbesan, who s yet to be intimated about her daughter's death explained to Punch that she managed to escape from the rubble of the building, which had been levelled by the fence.
She said:  "The fence had collapsed sometime in June but the engineer reconstructed it and made it a bit higher. It was raining heavily this morning (Thursday) and my husband had left for work around 5am. Later, I heard a loud sound and I felt everything falling on me.
"At first, I thought I was dreaming. I managed to crawl out of the rubble with my baby. I was practically naked with the baby in my arm. I started crying for help, but people did not hear me because of the rain. I began knocking on doors until a few men came out to help me.
"They were able to help me bring my children out of the rubble, they told me they have rushed the three of them to the hospital but I have yet to see any of them."
An eyewitness observed that the drainage channel being constructed around the fence could not hold the flood, which possible caused the collapse.