A group of three gay men have caused uproar among the users of different social media after they married one another.
The bizarre wedding took place in Thailand and photos from their pre-wedding shoot went viral.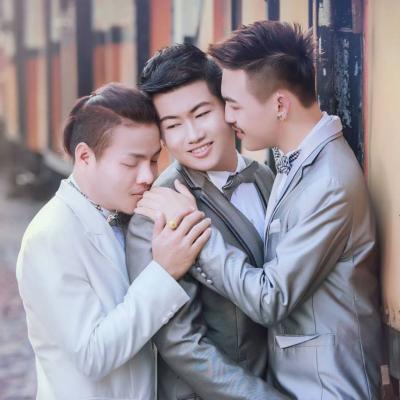 These three men got married in Thailand on Saturday, February 14, 2015. (Photo Credit: Gay Star News)
Netizens congratulated the men, only identified as Joke, Bell and Art, who were married in a traditional water-pouring ceremony at midnight on February 15, 2015 according to Gay Star News.
The photos show the trio in Thai and western wedding attire and the text on one said,  'Pure love cannot be seen by your eyes. If you want to know what its worth you have to see it with your heart.'
The photos generated lots of comments and reactions from various internet users.
One person named Art said, 'Love occurs unconditionally and is not limited to only two people. Love brings peace to the world.'
The three-man couple were said to have spent their honeymoon in their home province of Uthai Thani.