Here is another serious but ridiculous case of a woman who is blaming God for running her car into a motorcycle.
The 25-year-old woman said God told her to let go of the wheels and let him take charge and drive before she rammed into a 47-year-old Anthony Oliveri, who sustained severe injuries.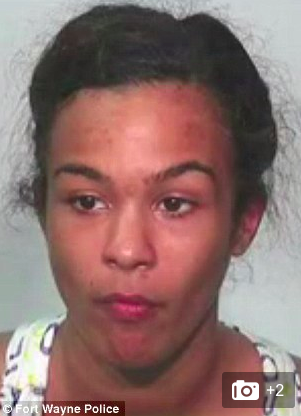 Police operatives arrested in Fort Wayne, Indiana arrested Prionda Hill and charged her with failing to stop an accident, criminal recklessness and two counts of criminal conduct.
According to World Wide Weird News, Hill also struck the back of a Ford truck with her Pontiac Grand Prix before landing outside a restaurant. The incident unfolded around 9:45 p.m.
According to Hill, she was driving normally on Jefferson Boulevard near Jackson Street, when suddenly God told her that she should let go of the wheel as he will be taking over from her.
It was learnt that immediately she left the steering for Jesus, her Pontiac crashed into the back of the Harley-Davidson motorcycle driven by Oliveri. Oliveri said that he was traveling about 20 miles per hour when the car hit him from behind.
The victim narrowly escaped death from the accident with several broken ribs, lacerated spleen, kidney bleeding and severe abrasions to the skin.
While maintaining that her car was mechanically okay, Hill admitted that she has a prescription for pain medication.
Luckily enough, the driver of the Ford truck escaped the incident unhurt.