A 39-year-old married man identified as Chamberlin Ojoko, has allegedly killed his 25-year-old pregnant girlfriend, Chinonye Ella, with a concoction which he claimed was meant to be used to abort the baby.
Ojoko, who hails from Ezeakam Eziudo community in Ezinihitte Mbaise Local Government Area, Imo State, reportedly dug a shallow grave where he buried Ella before he fled to Port Harcourt, Rivers State where he is based with his wife and children.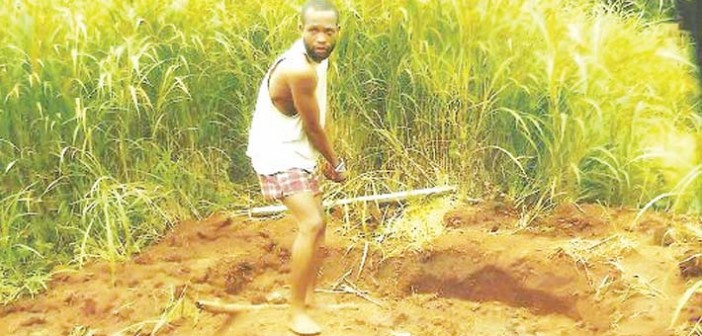 The Sun reports that Ojoko impregnated the deceased but refused to take responsibilities, probably because he is married.
In his bid to save himself the shame, Ojoko procured a herbal concoction and lured Ella to an uncompleted building where he gave her the drink which caused a fatal adverse reaction, resulting in her death.
Determined to finish what he had started, Ojoko went back home, got a shovel and dug a shallow grave behind the building and buried the corpse.
Unknown to him, a young girl saw what he did and promptly reported to the owner of the building who then filed a report to the police.
The police swung into action immediately and arrested an elder brother to the suspect, Pastor Sopuruchi who then led them to his brother's Port Harcourt home where he was arrested.
Pastor Ojoko said: "I saw my brother Chamberlin Ojoko and his girlfriend on that day around 3.00pm. They didn't enter our house in the compound; instead they walked toward Eziudo road. About 9:00pm, I saw that my elder brother, Chamberlin, returned to the house without the girl.
"He requested for shovel and took it to the bush. He didn't return till 11:00pm. I asked him where he was coming from at that late hour; he said he went to the toilet. I asked him, why he came to the village without informing us. He replied that he was working at the building site. I saw bruises and wounds on his hand. When information got to us that my elder brother murdered his girl­friend, I had to take the policemen to Port-Harcourt to arrest him."
Parading the suspect, the State Police Commissioner, Taiwo Lakanu, said Ojoko met the lady in a bus at Achingali, in Obowo Local Government Area, Imo State last December and after they struck up a relationship.
Lakanu further revealed that Ojoko would travel regularly to Owerri, where he would lodge with the lady in a hotel until she informed him that she was pregnant.
Confessing the crime, Ojoko said: "On July 20, 2015, I took my girlfriend to an uncom­pleted building around 6:30pm. My girlfriend took the herbal medicine, but later she started writhing in pain. Then she died.
"I ran to my house and took a shovel; I carried her body to the side of the building. I dug the ground and buried her in a shallow grave."
An autopsy on the exhumed body revealed that the deceased was strangled to death with a piece of cloth.
A police source said: "There were stains of the victim's blood at the uncompleted building. The police also learnt that the suspect threw away the handset of the deceased girlfriend."
The suspect will be charged to court as soon as the investigation is completed.