A 26-year-old man has been arrested by officials attached to the Rapid Response Squad, RRS, of Lagos State Police Command for allegedly kidnapping a 7-month old baby.
The suspect identified as Happiness Umaru, initially claimed to be the father of the baby after he was arrested at Eric Moore in Surulere around 10pm on Wednesday, March 16, 2016.
However, on further interrogation, Umaru confessed that he found the baby around Ijora Railway, when he went into a bush to ease himself.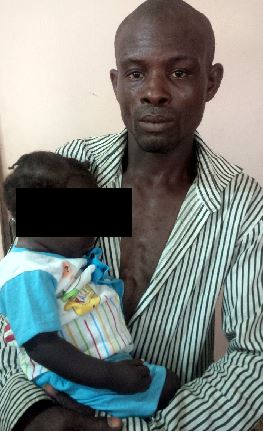 The case was transferred to the Gender Department for further investigation and the officers from the unit visited the scene of the incident where they located the baby's biological mother according to Vanguard.
Narrating the ordeal, the baby's mother, Patricia Victor, said: "I laid my seven months old baby (Favour Victor) on the bed inside my house at about 8p.m., to buy food for my son.
"By the time I returned with the food for my older son, my baby had disappeared. I raised alarm and neighbours joined me in the search all thorough the night, but we did not find him.
"I did not know that police officers had arrested the man who stole my baby. Luckily, when they came the next day to investigate the case, they located me."
The officers retrieved the baby from Umaru and reunited with his mother while the suspect will be charged to court on Monday, March 21, 2016.