Akinwunmi Ambode, the governor of Lagos State on Wednesday, March 7, 2018, received a Nigerian, Bayode Treasures-Olawunmi who set a new Guinness World Record in the longest reading marathon.
Obafela Bank-Olemoh, the special adviser to the governor on education, while briefing the government house correspondents at the end of the meeting, on Wednesday, March 7, 2018, said the State Government was delighted to host the new world record holder, and that the government is proud of the feat.
"The Governor met Bayode to congratulate him and assured him that the whole of the State and the country is proud of his attempt to break the world record.
"All said and done, we are still waiting for the Guinness Book to get back to us to confirm and affirm the new record but regardless, what the Governor was trying to emphasize is the fact that his attempt was very commendable and it helps us to bring to the fore something we always talked about as a State to improve the reading culture, and the Governor is committed to supporting this in anyway," Bank-Olemoh said.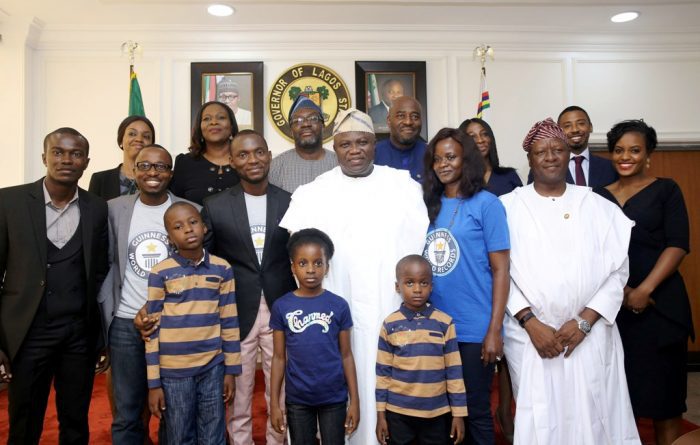 Also speaking, Steve Ayorinde, the commissioner for tourism, art, and culture, said the new world record was extra-ordinary and a different kind of endurance test with a lot of intellectualism, saying the development would spur a lot of Nigerian youths, students, pupils and adults to be interested in reading.
"I think Bayode is the ultimate dreamer who is sending a message to Lagosians, Nigerians and to Africans that they can do it and I think this will fit in perfectly well with the new concept that the Ministry of Education is coming up with known as Lagos Reads.
"I believe of course Bayode will be one of the ambassadors for Lagos Reads which is to encourage people to read and there is a lot of joy, fulfillment, and value in reading and I believe this will be the beginning of new things from Bayode himself and from our young men and women," Ayorinde said.
On his part, Bayode said he was overwhelmed and fulfilled to set the new world record, saying his intention of embarking on the project was to make reading popular and famous in Nigeria and Africa, as well as change the narrative that 'if you want to hide anything from the black man, put it in the book.'
"The western world is not built on the back of entertainment and sports; it is built on the back of education, research, reading and intellectual exertion. That is my mission.
"I believe in a way it has been accomplished but it is a seed sown already and we are going to water it to ensure that there is harvest in the next five to ten years whereby there will be Africans that will arise with great intellectualism to move us forward in the continent," Bayode said.