Authorities and citizens of Ghana on Monday, June 8, 2015 commenced a three-day national mourning for some victims who lost their lives to flood and fire disasters in the capital, Accra on Wednesday, June 3, 2015.
The double disaster that plagued the country claimed over 200 lives and destroyed properties worth millions of U.S. dollars in the country.
A prolonged heavy downpour that led to seizure in power supply was accompanied by a fire inferno in some communities within the space of hours.
Most of the victims were supposedly taking solace at a fuel station to escape the downpour when an explosion broke out.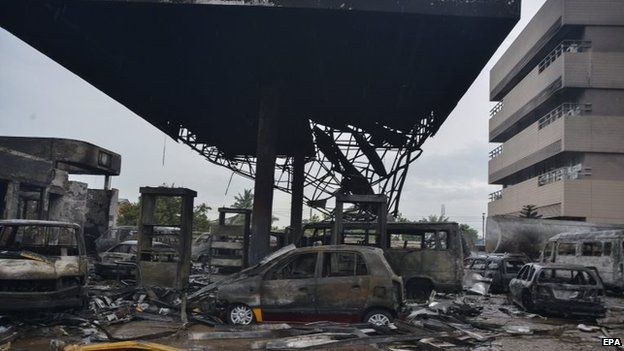 Asides the dead victims, some other persons numbering in hundreds were also said to have sustained varying degrees of injuries and are receiving treatment at different hospitals in Accra.
President John Dramani Mahama announced the three-day national mourning after a crisis meeting of the national Security Council moments after the incident.
The president observed that drastic steps were necessary if the country was to permanently address the perennial flooding.
He made the assertion after he visited the accident scene, noting that efforts would be intensified to 'expand and modernise' the country's drainage system.
According to BBC, flags are to fly at half mast across the country up until Wednesday, June 10, 2015 when the mourning period would be over.
The Minister of Communications, Edward Omane- Boamah, in a statement, urged residents to appear in black attire and red armbands during the mourning period.
The three-day mourning is expected to be concluded with a memorial service for the departed near the site of the fire disaster at the Kwame Nkrumah Circle.
The minister said, "As we go about our work and duties during the three days, let us remember the victims and pray for their souls.
"Let us also pray for strength and comfort for their families and friends,"
Government has also taken responsibility for the hospital bills of all victims of the flood and fire, as directed by the President as they released 50 million Cedis, approximately 15 million dollars to support them.