A soldier, Lance Corporal Philomena Nnamoko, has begged the Nigerian Army to allow her to disengagement due to her health condition and maltreatment from her superior officers.
Punch reports that the 38-year-old widow, who joined the Army on August 15, 2009, was attached to the 22 Support, Engineering Regiment, Intelligence Department, Ijebu Ode, Ogun State.
Nnamoko said her trouble began early 2017 when she was diagnosed with fibroid and asked to leave the Army because of her illness.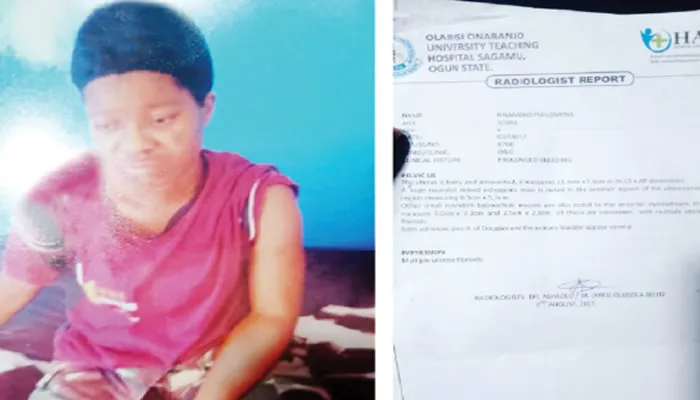 The Enugu State indigene, with force number 09 NA/64/5618, said her request was turned down.
She said, "Around that time, late evening, I was tying a wrapper on my chest about to go relieve myself in the toilet when I met a commanding officer in my camp, so I greeted him. But he complained that I did not greet him properly. I instantly apologised but he became furious and started beating me. I fainted in the process with my wrapper off my body.
"The next day, he was transferred to Abeokuta, Ogun State, and I was advised to go there and lodge my complaint or write a statement. On getting there, I was thrown into the guardroom for four weeks and denied access to the cantonment commanders.
"When I was released, I went back to my barracks at Ijebu Ode. I had to go to a hospital because my medical condition was already getting worse. The hospital referred me back to a hospital in Abeokuta. But my commanding officer refused to give me pass to go to the hospital."
The victim said she, however, found her way to the Onabisi Onabanjo University Hospital, Sagamu, to receive treatment.
She claimed that she was scheduled for an operation on August 29, 2017.
"Early that morning, I heard a knock on my door. I opened it and seven soldiers grabbed me. They took me to the guardroom and dropped me there. I bled profusely till I fainted. They rushed me to the Ijebu Ode Military Hospital.
"While I was on drip, an order came from the acting commanding officer that I should return to the guardroom with immediate effect once the drip ended. I was taken back to the guardroom from there. I was so heartbroken that I almost committed suicide.
"I stayed in the guardroom for another three weeks. A civilian working there went to my superior to plead with the acting commanding officer on my behalf. She also went to beg the Mowe Barracks Cantonment Commander Officer, who claimed he did not know I was locked up.
"After her pleas, they took me to a hospital in Ibadan, treated my wounds, and said my fibriod would be operated on when my blood pressure was normal. I stayed there for two weeks," she added.
Nnamoko said when she returned to the barracks, her former commanding officer had returned and ordered her to get to work immediately despite her health condition.
She said, "From that day, my name appeared on the daily roaster. I worked tirelessly every day. I was demoted and put in the guardroom several times for offences I did not commit.
"I went to the Army Legal Service, Osogbo, Osun State, and they kept saying I should forgive them. I also went to human rights and they were invited but my commanding officers did not honour the invitation. I got a lawyer, the court also invited them, but they did not go to court.
"I have been writing for voluntary discharge. I have written nine times, they received five but never responded. I still have four that they refused to collect.
"I am passing through hell; since 2017 till date, they have been oppressing and intimidating me. I do not have rest or peace. I am not feeling fine; I want justice for the inhuman treatment and I also want access to resign from the Army."
When contacted, the spokesperson for the 81 Division, Nigerian Army, Major Olaniyi Osoba, said he was not aware of the matter.
He, however, advised the victim to see him over the matter.
He said, "I do not think the officer has exhausted all administrative procedures. So, she should come and see me. I have to look into the complaints and ensure that she completes the administrative procedures for what she is complaining about."
Source: Punch