Scotland's oldest woman alive,  Jessie Gallan just turned 109 on Friday, January 2, 2015 so she decided to share some secrets of longevity and healthy living with anyone who cares to listen.
Born in 1906 in a two-bed farm cottage, with six siblings including five sisters and one brother, Gallan became a milkmaid at the age of 13, according to Mail Online
'I also made sure that I got plenty of exercise, eat a nice warm bowl of porridge every morning and have never gotten married,' she said.
She now lives at the Crosby House care home in Aberdeen, where she marked her 109th birthday with friends over lunch.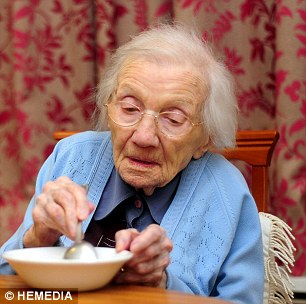 A support worker at the care home, Rebecca Streeter, said,  'Jessie still takes part in the group activities, she likes her exercise.
'She goes to all the concerts and enjoys her church on a Sunday. And obviously she has led a very healthy lifestyle.
'Jessie also puts a lot of stock in knitting.'
Therefore, to cut the whole long story short, the secrets of along and healthy life is to STAY AWAY FROM MEN. Women you got that right?
Not just that, eating porridge every day with  exercise and knitting is not also a bad idea.
Well, you may want to give it a try.