A Florida couple face more than 90 charges after police say they severely neglected a slew of animals on their farm in Lakeland, Florida. One emaciated horse died while a vet was tried saving it.
Jacob Caudy, 28, and Emily Cowper, 24, were arrested on Monday, according to a news release from Polk County Sheriff's Office, that accused them of depriving food from horses and other animals in their care.
The pair had been under investigation since late April, when Polk County deputies discovered an emaciated horse named Dixie Boy on the farm.
California woman Anita Tucker had been paying to Cowper and Caudy since 2011 to care for Dixie Boy, but deputies say they found the 9-year-old thoroughbred in skeletal condition and confined without food or water.
Checks from Tucker totaled around $1,200, according to the news release.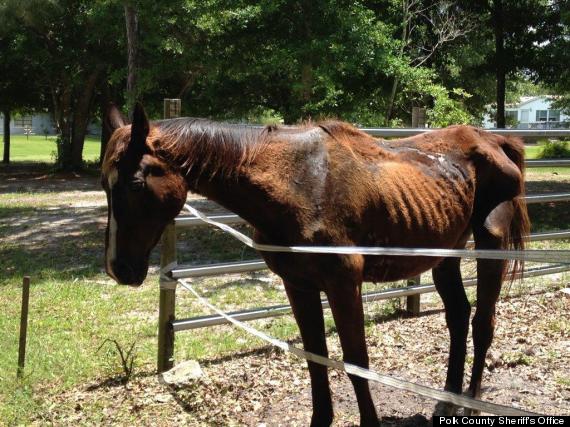 Dixie Boy — who was about 300 pounds underweight — was immediately taken into custody of Polk County Animal Control. As the investigation into the farm continued, deputies say they found dozens of animals denied proper food and water.
Authorities ultimately seized 19 horses, 14 snakes, two iguanas, one dog, one cat, one parrot and one lovebird. One horse, which deputies say was dehydrated and emaciated, died on site while a veterinarian was attempting to treat it.
"This man and woman not only neglected horses, leading to the death of one, they stole money and lied to law enforcement," Polk County Sheriff Grady Judd told the Tampa Tribune."They don't deserve to have any animals in their possession, ever again."
Charges against the couple include one count of felony animal cruelty apiece, and 45 counts each of confining an animal without sufficient food and water.
Caudy is also accused of stealing a Hillsborough County Sheriff's badge, which officials say they located while searching the home.
Dixie Boy is residing at Hope Equine Rescue in Auburndale, where he has gained about 91 pounds. The other animals are in the care of Polk County.
Those interested in donating to Hope Equine Rescue can click here.