Two men wearing masquerade were on Saturday, August 22, 2015 arrested by police on the Nsukka/Oballo-Afor highway in the Ovoko Community of Nsukka, Enugu State.
The masquerades were arrested for allegedly beating up a passenger on a commercial motorcycle and robbing him of N57,000 on his way to Obollo-Afor to see his mother.
The victim, Mr. Chinonso Ezewaji, a trader, who deals on clothing materials, reported the incident at the Nsukka Police Area command which led to the arrest of the rebels.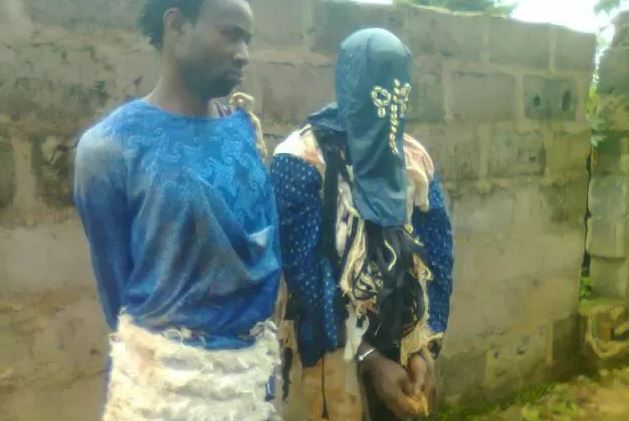 He said: "They beat me, searched me and collected N57,000.
"When they left, I ran into the bush and when I discovered they have gone some distance, I came out and went to the police to report.
A police source whose identity was undisclosed said: "The escorts of the masquerade however ran away.
"There were eight masquerades. They blocked the Nsukka/Obollo-Afor road and harassed people.
"The two arrested masquerades however denied collecting the N57,000 from Ezewaji but claimed they know the person who collected the money from the victim.
"When we searched one of the arrested masquerade, we saw Indian hemp in his pocket."
Confirming the incident, the state police spokesperson, Mr. Ebere Amarizu, said they have launched an investigation into the incdent.
He urged communities to regulate and monitor those who wear masquerade costumes, adding that some of them used the opportunity to harass, intimidate and rob innocent members of the public.
He said: "The Police are not against the people practising their tradition and culture but community leaders must know the character of people they allow to wear costumes of masquerade in the name of culture.
"A masquerade has no right to mount road block on busy highways where motorists, motorcyclists and other road users move on daily basis.
"The police have commenced investigation and will get to the root of this matter as issues of masquerade disturbing people have become a recurring decimal."
The two masquerades identified themselves as Kenchukwu Eze, a carpenter, and Ejiofor Eze, a brick-layer.
During interrogation, the masquerades denied stealing the money, claiming that their colleague identified as Chima Mamah, stole the money.
Eze, however, admitted that the police saw Indian hemp in his pocket, saying it was the leftover of what they smoked before coming out.
He said: "If the police release me, I will not wear masquerade costume, nor smoke Indian hemp again."