A 4-year-old girl suddenly turned dumb after her 35-year-old father, a motor mechanic, identified as Ademola molested and sexually assaulted her in Ikotun area of Lagos State.
The child who prior to the assault, talked fluently has been unable to talk for the past few weeks.
The abused little girl whose identity was purposely withdrawn looked forlornly and occasionally fell asleep in the arms of her mother, Folake, 32.
Folake on her part appeared distraught as she explained to Punch how her husband of 14 years had been molesting their daughter.
Blessed with four children; three girls, including a set of twins, and a boy, she reminisced about how they used to live as one (happy) family in the Igando area of Lagos before things took a grim turn and she caught her husband committing one of the most gruesome crimes against their second daughter – sexual assault.
She noted that apart from having sexual intercourse with the little girl on several occasions, she had caught her husband inserting his finger into her private part more than once, all of which had traumatised Rebecca and made her a shadow of her real self.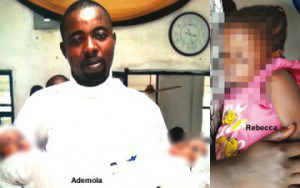 The unfortunate incident seems to be tearing the family further apart as she has not only moved out of the house; she has vowed never to return, whilst accusing her husband of being diabolical.
Narrating the heart-chilling ordeal, Folake said: "It started in 2013 when I suddenly woke up one night and saw my husband removing the panties of my daughter. It was in the midnight. I wanted to shout but I wanted to see what he was up to. So, I pretended as if I didn't see him because the room was relatively dark.
"When he pulled down her pant, he looked around and when he felt convinced that everyone was deep asleep, he stood up and moved to where the girl was and dipped his hand in her private part. I screamed.
"To say I was shocked was to say the least. He was shocked too because he didn't know anyone was watching, so he quickly stood up, pulled up his trousers and started beating me.
"He beat me that night such that blood came out of my body. I didn't even know I was pregnant until that night and the pregnancy was about two months old. I ran away from him for some time and I told my relatives. But I had to go back because of the pregnancy and that was when I had a set of twins for him."
To Folake, her husband had turned a new leaf and would never do such a despicable act again, but unknown to her, other things had been going on without her knowledge.
She said the straw that broke the camel's back happened on July 17, 2015 when she caught him molesting her daughter again the same way he did before.
The woman continued amidst tears: "I thought he had stopped until the night of July 17, 2015 around 1am. It was a Friday. Rebecca was sleeping beside me but I saw him stand up, he carried the girl to the other side of the bed. He didn't know I was awake. I had wanted to shout but I wanted to know what he was up to again. So, he removed his trousers, turned his back at me and crawled to where Rebecca was lying.
"He didn't know I was looking at him. He pulled down her panties and started inserting his finger in her private part again. I thought I was dreaming. I screamed and continued shouting. He was shocked and couldn't talk. He was just looking. Then, he went back to sleep.
"The following morning, I challenged him why he was doing that to his own child. I know he is diabolical, so I told him if his plan was to use my daughter for anything evil, he would not prosper. That was what got him angry and he started beating me. He said he would kill me. Then, my other children started crying and shouting, and he didn't stop until one of our neighbours intervened.
"The following day, I went to the church to report to the shepherd of the church he was attending, Celestial Church of Christ, somewhere around Ikotun in Alimosho Local Government. The shepherd was shocked too but he pleaded with me to exercise patience. Because of the fear of what he could do to us, we left the house and moved to the church and we kept sleeping there."
Folake explained that her estranged husband, came to the church, beat her and forcefully took away their 17-month-old twins, whom she was still Bosom feeding, noting that the two girls had been in his custody since then.
Her seven-year-old boy, identified simply as Seun, who appeared sharp-minded, told PUNCH that he used to see his father on top of his sister, maintaining that he had caught him twice in the act of putting his hand "under" his sister. He explained that his father used to rub his hands all over Rebecca's body but he barely knew what he was up to.
Disturbed by the incident, Folake said she reported the assault at the Igando Police Station and to the Executive Director, Esther Child Rights Foundation, Mrs. Esther Ogwu, who had helped to monitor the case with the police. Folake added that some of the policemen in the station even laughed at her when they heard about the case.
Ogwu told Saturday PUNCH that it would be in the interest of all if justice was done on the matter, saying she would follow the matter to its conclusion.
She added: "We have involved the National Human Rights Commission, Office of the Public Defender and the Lagos State Ministry of Justice in the case so as to ensure justice. It is increasingly becoming important for parents to pay due attention to their children to guard them against assault."
A test was conducted on the victim at the Mirabel Sexual Assault Referral Centre at the Lagos State University Teaching Hospital, Ikeja, and the resul proved that she had been assaulted and her hymen broken.
Meanwhile, her father had been released on bail by the police, and that the police in Igando had been foot-dragging in taking the case to court.
Folake regretted that her husband had caused both spiritual and psychological damage to her little daughter.
She stated: "This girl's private part has almost become rotten and as young as she is, her Bosom  is already coming out, and she limps occasionally. I can never entrust my children into his hands and that is why I'm worried about the twins that are with him. They are also girls. I don't want him to molest them too.
"He had afflicted us with charm but we have been set free. The two children in school have been very retarded, coupled with the fact that Rebecca has not been talking until she did twice just two months ago. And since then, she has stopped again. She just doesn't talk and she urinates frequently. She should be in Nursery One now but she seems not to be coping. Even her teachers are complaining she had become a recluse and she keeps urinating all the time."
Ademola however, denied the claims and stressed that his wife was only trying to  'cook up lies against him' so she would move out of his house.
He said: "She is lying against me. I didn't do any of those things they were saying. She has seen someone else she wants to marry and that was why she left the house."
Confirming the incident, the Divisional Police Officer, Igando Police Station, Mr. Segun Fagbohun, said the case had been transferred to the State Criminal Investigation Department at Yaba for further investigation and possible prosecution.