Five women have reportedly lost their lives, while four others sustained serious injuries after a Cherubim and Seraphim Church collapsed at Ija -Ugbo, Arogbo Ijaw town, in the Ese Odo Local Government Area of Ondo State on Tuesday, March 20, 2018.
It was gathered that all the victims were women. Among them was a pregnant woman. The building was said to be under renovation when it collapsed.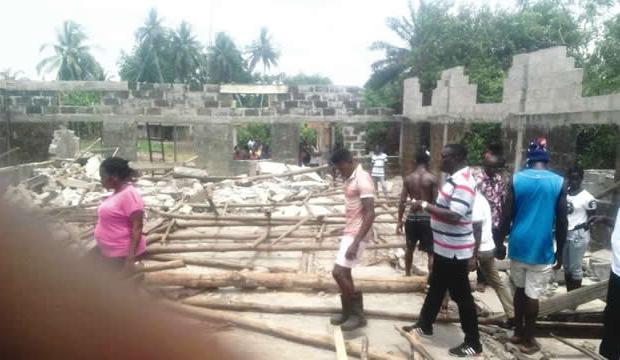 According to a witness, the five casualties had left their homes for the construction site to fetch disused planks when the incident happened. He said the tragedy threw the community into mourning.
The witness said, " This is the first time that such a thing will happen in this community. It was caused by the inferior materials used for the renovation of the church. "
Femi Joseph, the state Police Public Relations Officer, confirmed the incident, describing it as sad and unfortunate.
The PPRO identified the victims as Morenike Bubuma, Margret Goloba, Mayama Goloba, Kowei Aboa and Dali Gunuboh, who was pregnant.
Joseph explained that the victims were killed while struggling for wood at the site.
He said, " A renovation was going on in one of the churches in the area. The owners were trying to build a bigger church. While trying to demolish the old one, the building collapsed just as people were struggling for disused wood.
" Five people were killed on the spot, while four others were seriously injured and rushed to a nearby hospital for medical attention. "
He said the command had begun an investigation into the incident, while the corpses of the victims had been deposited in a morgue.
Bekewe Olowu, the Caretaker Chairman of the Ese Odo council area, also confirmed the incident, saying it was "shocking and devastating. "
Read more at The Nation