The collapse of the Ilah-Ebu Bridge in Oshimili North of Delta state after the river overflowed it banks  has been a source of nightmare to several communities and travellers.
Commissioned 10 years ago, the bridge on an inter-state federal road connects Ebu in Delta State, the Esan area of Edo State and some parts of Kogi State to Asaba.
The damage has caused so much agony to its users  mostly civil servants working in Asaba,  transporting farm produce and  other products to communities has also been difficult as a result of the damage.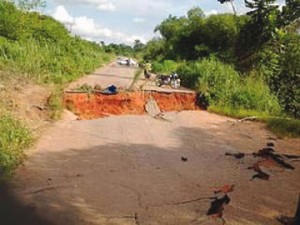 Punch reports:
Many communities in Delta, Edo and Kogi states have been cut off from access to Asaba, Delta State, and Onitsha in Anambra State following the collapse of the Ilah-Ebu Bridge in the Oshimili North Local Government Area of Delta State.
The bridge collapsed after the river under the bridge overflowed its banks and created deep gullies around the bridge.
Users of the road are mainly farmers, traders and civil servants who travel to Asaba and Onitsha to sell and buy produce, as well as work in the Delta State capital.
When our correspondent visited the site of the collapse, stranded commuters on both sides of the bridge were seen disembarking and wading through the shallow part of the river to join buses and commercial motorcycles on the other sides.
The road connects Ebu in Delta State, the Esan area of Edo State and some parts of Kogi State to Asaba.
The Chairman of Ebu Task Force on Development, Dr. Kema Akeh, said he had summoned a meeting of the community to discuss the state of the bridge on Monday after he experienced a disturbing vibration on the bridge.
"But before we could meet, the bridge had collapsed," he said, calling on the Federal and the state government to come to the aid of the people.
One of the road users, Mr. Dom Okonta, said he had to park his car on the other side of the river to cross home.
He said the situation had been pathetic for the people because that was the only road to go home.
"The alternative is to use the River Niger, which is very risky," he said.
The road is an inter-state federal road said to have been inaugurated about 10 years ago.
The Delta State Federal Controller of Works was not at his desk when our correspondent called. His aides declined to give out his telephone contacts.
But our correspondent was told that a team from the Federal Ministry of Works had visited the site on Tuesday.