Nigeria is not Africa's oil king no more as the West African giant's oil production drops to below one million barrels per day due to militant action in the oil rich region of the Niger Delta.
Months of militant attacks on pipelines and oil infrastructure in the southern Niger Delta region have crippled production in Africa's largest producer of crude.
The militant group behind the attacks, the Niger Delta Avengers, vowed in an early communiqué to reduce Nigeria's economy to "zero." They appear to be getting their wish.
RELATED: BREAKING: Niger Delta Avengers Blow Up 2 Of Chevron's 'Highest Producing' Wells
Exports have fallen from about 2.2 million barrels per day to as low as 990,000 barrels per day, analysts say, making Angola Africa's largest producer of oil, at least for now.
The drop in oil production and the low price of oil globally are major reasons why Nigeria is expected to enter a recession in coming months.
Gail Anderson, research director at energy research and consultancy group Wood Mackenzie, says the militants have been careful in their sabotage.
"The attacks themselves have been well-targeted and they've been designed to cause maximum damage, and I think they've been quite successful in that respect," Anderson said.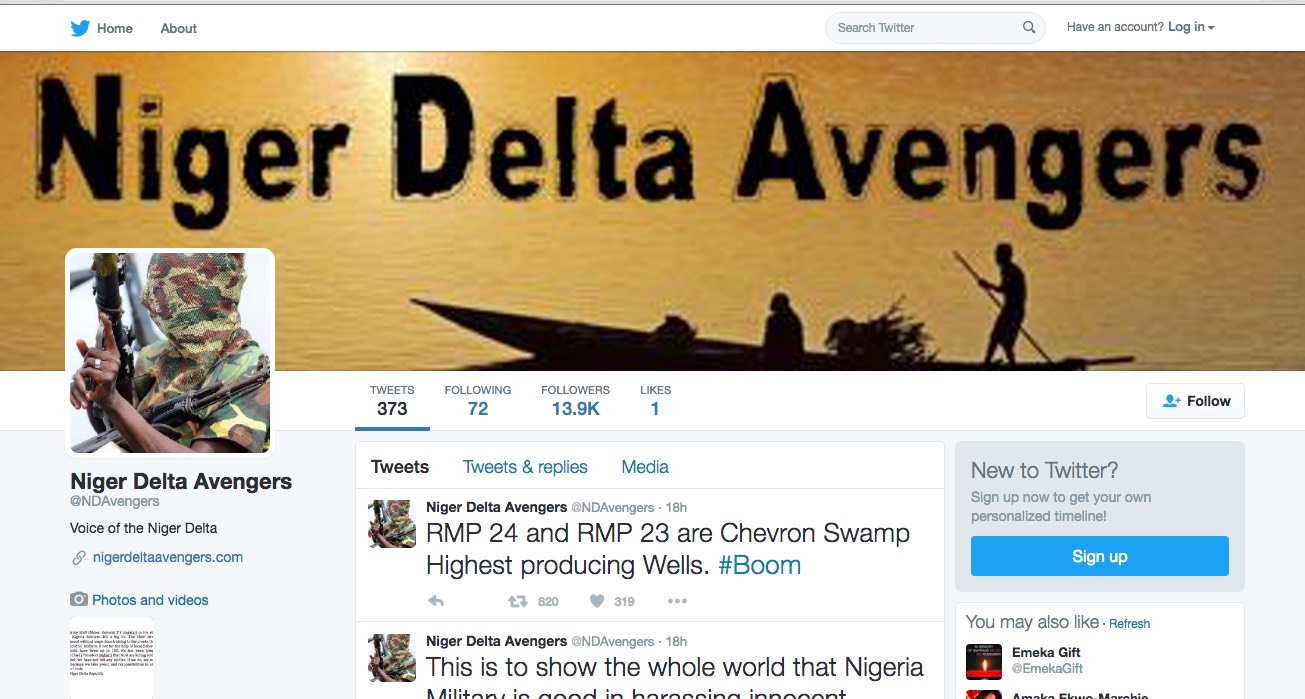 Oil Production Takes A Hit
The Niger Delta Avengers emerged earlier this year with a blog that took credit for a number of attacks on pipelines in the delta. It also listed demands, including apologies from politicians, the release of an imprisoned separatist leader, and a redistribution of ownership of oil blocks.
After months of sabotage, Anderson estimates production has fallen by about 560,000 barrels per day.
Dolapo Oni, head of energy research at Ecobank, gave a more drastic estimate. Between pipeline repairs and militant attacks, Nigeria is probably producing no more than 990,000 barrels of oil every day, he said.
Crude has long been Nigeria's top export. Though President Muhammadu Buhari wants to wean the country off its dependence on oil, it remains the major source of revenue for the country's recently enacted $30.4 billion budget.
"We're not producing up to the level we need to produce, the government won't generate the amount of revenue it needs to generate from oil," Oni said.
Low oil prices and shortages of fuel and foreign exchange led Nigeria's economy to contract last quarter. It's expected to do the same this quarter, putting the country into a recession.
Repairs on the attacked pipelines will likely take weeks, Oni said, and that might not deter the militants. The militants blew up one pipeline in Bayelsa State twice, and warned its owners against repairing it, he said.
Past problems
Militancy in the Niger Delta is nothing new. The delta was the site of a years-long insurgency that only ended in 2009 when the government started paying off militants and offering them job training as part of an amnesty program.
That effort was criticized for not addressing the underlying issues fueling the militancy, namely the joblessness, poverty and pollution in many communities where people live next to oil production sites.
The government is winding down the amnesty program, but the Niger Delta Avengers says it wants the program to continue. Oni said its unknown if any participants in the program are part of the new group, but the sophistication of their attacks suggests a high level of familiarity with oil infrastructure.
"They carry out attacks at specific times of the day, when they know they're able to strike without specific reprisal from the enemy," Oni said.
Buhari is headed to the delta this week to kick off the cleanup of Ogoniland, a region of Rivers State that has been extensively polluted by oil spills over the years.
Rehabilitating Ogoniland is one of the NDA's demands.
via Voice of America