For centuries, farming was the main source of income for the people of Asola-Fatehpur Beri, twin villages in northern India. But in recent times, the men of Asola have managed to completely reinvent themselves – from poor farmers to strong, well-built bodyguards. Today, almost 90 percent of the men from the 50,000-strong village are employed as bouncers at night clubs in nearby cities like New Delhi.
"In this village, there is not a single boy who does not go to the gym," said Vijay Pahelwan, head trainer at the local 'akhada', or gym. "All boys exercise. They are very careful towards their body. No one drinks and no one consumes tobacco." Most boys take up wrestling at a very young age in the hopes of making it to the Olympics. But they always have the option of becoming a bouncer to fall back on.
Young wrestling student Keshav Tewar, for instance, spends most of his time at the gym. "No matter what other job I get when I grow up, I'm going to be a bouncer," he said. "Bouncers have fit bodies and I want to make my body fit too."
"I have been going to the gym since I was 15. And my wish was to become a security person and I have done that," said Viju Tewar, a bouncer. "Now I want my son to also become a security person and get a healthy physique."
Becoming a bouncer, of course, is by no means an easy task. Young boys are put through gruelling workout sessions that last two to three hours a day. As a part of their training, the boys lift motorcycles and tractors, and also practice yoga. Being mostly vegetarian, the students also need to follow a specific diet to help them bulk up.
"My suggestion is they drink at least three to four liters of milk a day," said Vijay. "A dozen bananas and around half a kilo of fruit. During lunch, they also consume 1.5 to 2 kilograms of yogurt with three to four pieces of flatbread. In the evening, they should have two pieces of flatbread and one to 1.5 kilograms of almond-infused milk." The non-vegetarian equivalent of the diet includes an entire boiled chicken, 10 egg whites, a dozen bananas, and 10 liters of milk a day.
Dominated by the Gujjar community, Asola is slowly beginning to accept 'bouncery' as a legitimate profession. It's hard to say how the occupation was first introduced to Asola. According to Vijay, it all started when he was working out in the village akhara one morning, 15 years ago. Vijay said that he was approached by a pub owner, who offered him 10,000 rupees (over $150) to bring five boys to guard a wedding event in New Delhi. The money was more than the village boys had ever seen before, so they jumped at the opportunity.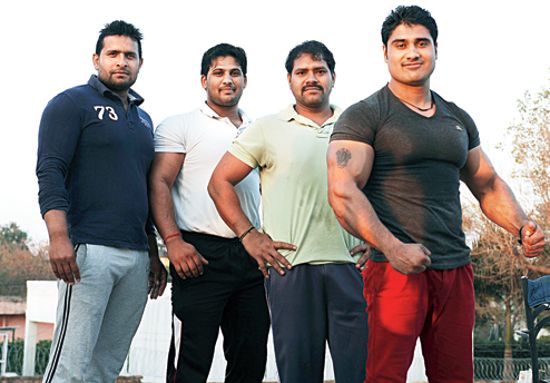 Now, bouncers from Asola are paid 1,500 rupees ($25) a day and they earn anywhere between 30,000 to 50,000 rupees a month. They're hired as long as they have an impressive physique and no criminal record. But Vijay insists that the boys finish high school before they go to work. "I generally ask them to study up to Class 12 and only then look at this as a serious profession."
"People sometimes look at us in the wrong way," said Vijay. "They think we are criminals. But any boy who exercises two times in the morning and evening and goes to work is not going to commit a crime. In fact, it encourages good behavior towards other people."