The Ijaw Youth Council, IYC, Worldwide has asked an Islamic cleric, Sheik Ahmed Gumi, who resides in Kaduna to stop inciting Muslims against the Christians in the country, Punch reports.
This was in response to an open letter  addressed to the President by the cleric demanading that he should desist from his presidential ambition in the 2015 general elections scheduled for February 14.
In the letter,Gumi accused President Jonathan's regime as being partial and against the Muslim citizens of the nation noting that a further victory in the elections will make things worse.
However, the IYC on Sunday, October 26, 2014, in a statement by their representative, Mr. Eric Omare, maintained that the accusations was uncalled for.
The statement read, "The IYC condemns the letter in its entirety. It is disappointing for such a letter to be written by a religious leader who ought to be an agent of stabilisation in the country rather than acting as an agent of destabilisation.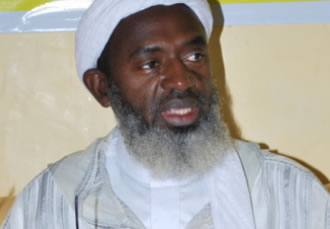 "Gumi's letter is solely motivated by political reasons to satisfy his political interest and paymasters. It is a well known fact that the Islamic religion is the most potent weapon used by northern politicians in mobilising against Christians in the North which has resulted in the killing of thousands of innocent Nigerians."
The group opined that the letter from the cleric was intentionally written in order to cause catastrophe for the Christians residing in the northern part of the country if President Jonathan eventually scales through the elections successfully, adding that the number of lives lost after the 2011 elections will never be forgotten by the Christians in a jiffy.
Furthermore,the group said, "Therefore, the group calls on the relevant security agencies to proactively investigate Sheik Gumi's inciting letter and bring him to justice. It is totally unacceptable for some persons to hide under the umbrella of religion to promote their political interest and in the process waste the lives of innocent Nigerians.