A 32-year-old man, Saheed Oladimeji, has been arrested by operatives of the Oyo State police command for allegedly beating a 14-year-old boy to death over allegation that he tried to rape his 6-year-old daughter.
The incident happened around 5pm on Thursday, May 5, 2016 at Adagbada area, Arola community in Ido Local Government Area of the state.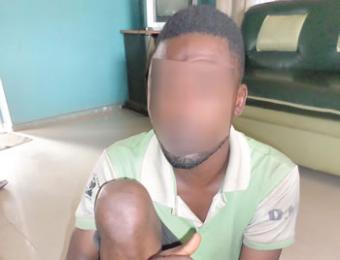 Oladimeji allegedly kicked and punched the deceased identified as Matthew Ohiosumuan, until he passed out and later died.
However, the suspect denied killing the deceased and claimed he only slapped his buttocks and whipped him with rope.
He said: "Matthew was the son of our next-door neighbour. On May 5, he called my daughter, Solia, to run an errand for him, but shortly after, I heard my daughter saying 'Brother Matthew, leave me alone'.
"I called out to her to come back home and as she came, her looks were hard and she was holding her underpants.
"I asked her what went wrong and she said it was Matthew who removed her pants and slept on her.
"Immediately Matthew saw me questioning my daughter he ran away.
"When Matthew's brother, Seun, came from school, I reported the former to him. Later, I asked one Abdulahi to call Matthew for me.
"When he came, I asked him why he did what he did to my daughter, but he denied it in the presence of his brother, saying that he only asked her to buy rice for him. I called my daughter and she repeated what she told me.
"I took a rope and used it to whip Matthew and in the process he ran away. As he ran, he fell face down and fainted but I thought he was pretending.
"People poured water on him but he was just moving slightly. I took him to a nearby private hospital but as the doctor wanted to set drips for him, he discovered that he had stopped breathing.
"I never intended to injure the boy, as I always encouraged him to face his studies or learn a vocation, so that he would be a responsible boy. He was close to me and I used to advise him a lot. I also used to give him clothes that had become tight on me.
"I am so pained by his death because it was unexpected. I pray that God should save me from this problem. If God should get me out of this, I would never beat any child, even my own child," the murder suspect said.
A brother to the deceased who gave his name as Seun, said: "Oladimeji told me that my brother attempted to sleep with his daughter and showed me a rope that he intended to use to tie him down so that he could discipline him. When Matthew was called, he denied the allegation but the suspect did not believe him.
"He first whipped him with a rope and I told him that the reprimand was enough but he did not listen to me.
"He started raining blows on his head, and two sides. This made Matthew to fall down but this did not deter Oladimeji.
"He started kicking the deceased so hard that passers-by had to caution him not to kill him. But he replied that if Matthew died, he would go and bury at Powerline Cemetery at Apete.
"Unfortunately, Matthew could not get up. But Oladimeji said he was pretending. When we noticed that he was gasping, we tried all we could to resuscitate him but all to no avail. That was when the suspect rushed him to a nearby hospital but my brother died before reaching the hospital."
Meanwhile, the father of the deceased, Mr Femi Ohiomasuan, disclosed that his late son was the only child his mother had for him.
Confirming the incident, the state police public relations officer, Adekunle Ajisebutu, said that the suspect had been charged to court and remanded in prison.