A group of three hefty fearful-looking armed robbers reportedly invaded a hostel located in the Under G Area of Ladoke Akintola University of Technology, Ogbomoso, Oyo State and forced them to have sex with one another after ordering them to gather inside one room.
Narrating the harrowing experience which had left her traumatized, one of the victims whose identity was not disclosed told Punch on Monday, October 26, 2015 that the ordeal the students underwent in the night of Thursday, August 13, 2015 was both unimaginable and painful.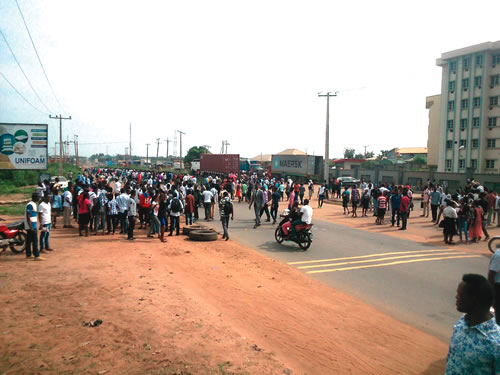 Amidst tears, the victim said she had returned to the room in the company of her roommate after a night reading class ahead of their exam in November. They locked their door and were about to retire to bed when they heard some noise outside.
Before they knew what was happening, three hefty men clad n black polos and jeans, armed with guns, machetes and axes immediately forced their door open and ordered them out.
"Come out now or we will kill you," she recalled what the men told her and her roommate, and with fear and trembling, the girls did their bidding.
According to her, one of the hoodlums stayed with the students, pointing guns at them so they would not 'misbehave,' while the other two locked the entrance to the hostel, ransacked all rooms one after the other, stole the students' laptops, money, debit cards, tablets and mobile phones.
After stealing all their property, the armed med went ahead and raped some of the grls before they ordered them to have sex with themselves.
The traumatized victim narrated: "They raped some girls in our presence, but not only that, they asked us to start having sex with ourselves. They called from among us a guy and a girl and asked them to have sex with themselves, right in everybody's presence. They threatened to use their weapons on us if we didn't cooperate.
"Then they asked all of us to strip naked. Since it was in the night, most of us ladies already had only our night gowns on, while most of the guys were just putting on boxers. They said we should all be naked. When they were satisfied, they called another pair of students to do the same thing and told everybody to watch.
"For about three hours, they dehumanised us, humiliated us. Unfortunately, nobody in the next hostel knew what was going on; if anyone knew, they would have helped us to call the police or the Student Union Government officials.
"Everything happened like it was a dream. They pointed at a guy I knew as my junior and asked him to do 'it' with me. When I refused, they slapped me and I fell. I had no option than to do it. I looked at my roommate and she was already shedding tears for me. How humiliated I was!
"It was not a night to remember. I wish I could erase it from my memory. My friend and I returned to the hostel that night after reading in the school because our exam is fast approaching. If I knew something like that would happen, I would have stayed in the school till the morning, but I needed to prepare for the following day's work.
"I had just finished having a shower when my roommate and I observed something was wrong. There was no light, so we couldn't see properly, but we observed that our hostel mates were all jamming their doors at some men's command.
"They cramped all of us in one of the rooms upstairs and we were all frightened. My parents are not yet aware of this incident and I don't wish to share it with anyone again. I only agreed to speak to you because my friend here encouraged me to and I feel something should be done by the authorities concerned to stop this barbarism. I know I'll be fine soon."
The students of the institution have been experiencing series of robbery and rape attacks since they resumed in July, 2015 and a group of men known as 'Three MOPOLs' have been at the helms of the attack.
Another victim who narrated the incident said: "It was very dark and there was no light to see their faces when they came to our hostel. They told us they were the 'Three MOPOLS,' and mere looking at them, we could not imagine how they were able to gain entry into our hostel and ordering all of us to go inside one room. We were told to take off our clothes and they raped some of the girls. They didn't rape me and they didn't ask me to have sex with anyone, but they stole my laptop and phone. It was traumatic. It was like experiencing hell that night."
The school's President of Women Against Rape, Sexual Harassment and Sexual Exploitation, and also the Vice-President, the National Union of Campus Journalists, Israel Fawole, said the Federal Ministry of Women Affairs and the national body of the Women Against Rape organisation had already been informed about the issue and that they had taken interest in the matter, adding that some of the victims had been taken in for rehabilitation at undisclosed locations
He said, "Not all of them are willing to open up, but some have come forward and they are being taken care of. Rape is an epidemic and it must stop. Some of the victims are undergoing rehabilitation now. Most of them are shy to talk about it, but recently, we organised a peace walk against rape, where female students had to protest against the incident.
"It is so unfortunate that unwanted visitors would barge in, threaten our students with axes and guns, ask the opposite sexes to start having sex in their presence and other students. They collect the students' property, rape them and still tell them to commit sex with one another. We are tired of this mess."
The President of the SUG of the institution, Olatunde Bakare, said he had been personally leading a team of student vigilantes since July due to the alleged nonchalant attitude of the police and the school management previously.
He said: "It is a bad experience and it saddens my heart that something this disgusting is happening to our students. When it started, we thought it was something we could curb on our own, so we took to the streets. I led a group of students who became watchmen overnight. We constituted a security committee on our own to be our own security personnel.
"We have both the male and female students keeping vigil. We don't carry guns, but only burn tyres and we hold planks, just to let the robbers know we are not sleeping. We stay up till 3am and this has affected students, especially those who have lectures early in the morning, but we cannot rest until we apprehend these criminals. The exam is starting next month and we hope this will not happen again.
"We found out that anytime the operation was going on in, say Area A, we would get a call that it was going on in Area B. We would have apprehended the criminals, but for the diversion in reports. We couldn't involve the police initially because the bad eggs there were just extorting our students. The aspect of ritualism is more disgusting to me.
"Because the school is non-residential, it has exposed us to many hazards. We protested that the school management should do something and we told them we want the school to become residential so that there could be more security. We believe if the management could work on our resolution in reviewing the edict which established the school, it could become residential. Hostels could be built on the campus so that the school security would help a lot in protecting our students."
Meanwhile, the school's spokesperson, Mr. Lekan Fadeyi, said: "We seek the understanding of the students to know the challenge facing the management. The edict establishing the school does not in the first place allow us to have hostels. Be that as it may, we would like members of the public to know that long before the recent ugly happenings, there was a standing security committee of the university – members include representatives of all security agencies and I can state categorically that all the main security arms of the government have served diligently well in this committee.
"Even in the most recent incidents, the management summoned a meeting of all landlords, agents and students to brainstorm on ways of increasing security awareness and combating crime. It went further to call an emergency meeting of the university governing council.
"As parents themselves, the members of the council frowned at the appalling situation and granted all requests of the management aimed at putting immediate stop to any crime against the students. The university has long before now been funding a joint patrol of security in areas popularly inhabited by its students and the management is not willing to stop at anything when it comes to guaranteeing the safety of lives and property of our students."