A Magistrates' court on Monday, May 4, 2015 ordered the arrest of a hotel director, 38-year-old Mrs Mary Joan Adeiekwe who allegedly bit off the ear of her manager, Chinwendu Nkemakolam, for demanding her monthly salary.
Anambra State-born Adeikwe was arrested and charged before Magistrate M.B. Folami of Ejigbo Court for allegedly assaulting Nkemakolam.
After she was released on bail, she refused to show up for trial.
The incident happened at the hotel premises located at 38, Olusesi Street, Ikotun where the victim went to collect her salary as promised by Adeiekwe.
The victim, a graduate of Business Administration from the Lagos State Polytechnic, LASPOTEC, was employed by Adeiekwe to manage her hotel on N25,000 salary every month.
A few months after she took the job, Adeiekwe sacked her without pay, and asked her to come for her salary at a specific date..
According to Nkemakolam, when she went to the hotel to collect her money, Adeiekwe got angry, grabbed her and bit off part of her ear.
Bleeding profusely, she was taken to Igando General Hospital with the piece of ear that had fallen off.
But before they reached the hospital the piece of ear was already dead and doctors said it could not be reattached.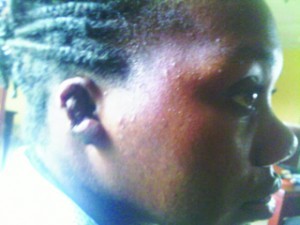 The matter was reported at Ikotun Police Division and Adeiekwe was arrested and a three-count charge of felony, assault and wounding under the Criminal Code was brought against her.
She was granted bail in the sum of N50,000 with one surety in like sum.
The matter has suffered several adjournments because Adeiekwe has so far failed to show up for trial.
Again on Monday, May 4, 2015 Adeiekwe did not show up and her counsel informed the court that they want to settle the matter out of court by paying the victim N25,000 being her salary and medical bills.
Magistrate Folami insisted that the defendant must appear in court and explain why she won't face trial.
The matter was adjourned till 1 June, 2015.