Tabatha Lee Grooms, a 35-year-old from Georgia, is accused of viciously attacking her boyfriend after he refused to have sex with her. According to news reports, and the Richmond County Sheriff's Department, 30-year-old Carlos Rodrecus Grace rejected Grooms' sexual advances earlier in the day. Grooms then went out drinking and returned in a drunken rage.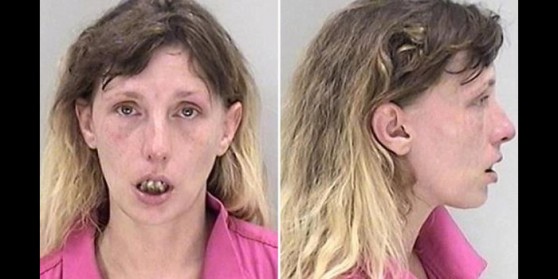 Reportedly during the attack Grooms told Grace that she "f**ked everyone else because [he] would not f**k her," according to the
Sheriff's report
.
During her attack she scratched his face, head, and neck in addition to biting his left forearm. She drew blood in the assault.
Grooms also attacked her own mother, Betty Clark, during her assault, punching the 66-year-old woman in the eye.
The three share a home together.
Grace was reportedly able to call 911 from the bathroom.
When the authorities arrived, Grooms was arrested and taken to Richmond County Jail on charges of simple battery and family violence.
(via First To Know)